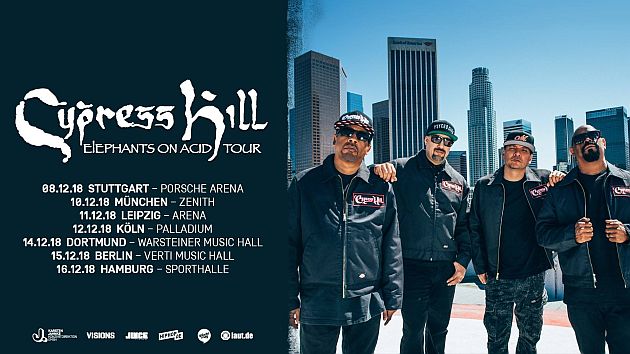 Palladium, Cologne, Germany
12th December 2018
Cypress Hill - "Elephants On Acid" Tour 2018 - Support: HAZE - Opener: Omik K.

The multi-platinum greats of Latin Rap have sold over 18 million albums worldwide so far and are in December in Germany for seven shows with their new long-awaited ninth studio album, 'Elephants On Acid'.
DJ Legend Mix Master Mike completes the live set-up around the rappers B-Real and Sen Dogg and percussionist Eric Bobo, who previously worked with the BEASTIE BOYS. They became internationally known for their commitment to the legalization of cannabis use. The name CYPRESS HILL refers to the home of the founding members, most of whom grew up on Cypress Avenue in South Gate. They are the first Rap group with Latin American roots whose albums in the United States could achieve Platinum or Multi-platinum status!
After their 2017 25th anniversary tour hits a veritable triumph, the Californians were even more motivated to complete the studio work on their latest LP 'Elephants On Acid'. After six years of studio work, the band finished recording in spring 2018 and are now proud to present their ninth studio album to the fans. The album fits seamlessly into the previous discography of the band and delivers the usual CYPRESS HILL sound. Together, the band is planning a brilliant live show in which the new songs should be brought to life. We are looking forward to seven energetic concerts when it says again "you cannot stop the Hip Hop!"
Additional Concert Info

Doors: 18:30
Start: 20:00
Tickets: 52.00 € plus fees via
Eventim
More Info: https://www.palladium-koeln.de/programm/programm/
Facebook Event: https://www.facebook.com/events/237009133730287/
More on
Cypress Hill