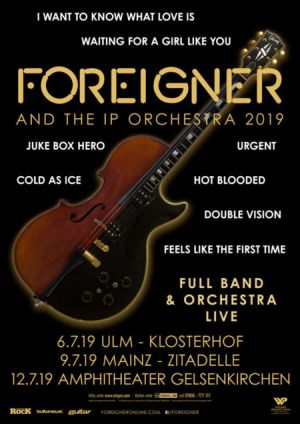 Amphitheater, Gelsenkirchen, Germany
12th July 2019
Foreigner and The IP Orchestra 2019
After their tour to the 40th anniversary 2017 and three selected shows in May 2018, FOREIGNER come to Germany again. Besides five regular concerts in June and July, the Classic Rock legend has confirmed even three exclusive orchestral appearances in this country this time. The band around founding member Mick Jones appears in Ulm, Mainz and in Gelsenkirchen. See the dates below. With timeless anthems like 'I Want To Know What Love Is', 'Cold As Ice', 'Waiting For A Girl Like You', 'Hot Blooded' and 'Juke Box Hero', FOREIGNER continues to rock the charts with ten multi-platinum albums, sixteen top 30 hits and album sales that now exceed 80 million copies.
FOREIGNER have now reinterpreted these hits for a European orchestral concert tour that will begin on July 6, 2019 in Ulm, Germany. The concert series offers a lifetime opportunity for fans to experience the band's most popular hits with the full symphonic sound of the renowned Russian IP Orchestra. This concert series was inspired by the Billboard success and German Top 10 album 'Foreigner with the 21st Century Symphony Orchestra & Chorus', which was released on April 27, 2018. The album went straight to the top of the Billboard Classic album charts and was also streamed and broadcast nationwide by PBS. FOREIGNER's recently completed orchestral tour included sold-out events in the US, Australia & New Zealand, as well as a return to KKL in Lucerne, Switzerland, and a full house at the legendary Sydney Opera House. The next FOREIGNER gig in Lucerne will be broadcast on New Year's Eve on December 31, 2018 as part of the program 'Pop Around The Clock' on ZDF / 3SAT.
Mick Jones on the upcoming orchestral tour:
"When FOREIGNER was formed 40 years ago, I would never have dreamed that all those years later we would still touring the world and playing the music we love. This orchestral design has shown us a new symphonic dimension of our music that we hope our fans will enjoy."
FOREIGNER celebrated their 40th anniversary in 2017 with a world tour through amphitheaters and arenas. The group was honored with platinum singles for the digital sale of 'I Want To Know What Love Is' and 'Juke Box Hero', proving their resonance in the era of downloads and streaming. FOREIGNER's songs have been watched on YouTube nearly five hundred million times, and the band's recordings are used in movies and television programs all over the world. FOREIGNER are: Mick Jones (guitar), Kelly Hansen (lead vocals), Tom Gimbel (rhythm guitar, saxophone, vocals), Jeff Pilson (bass, vocals), Michael Bluestein (keyboard, vocals), Bruce Watson (guitar, vocals) & Chris Frazier (drums)
The general presale starts on Friday, November 2, 2018. Tickets are available at www.myticket.de as well as by phone at +49 (0) 1806 - 777 111 (20 Ct./Call - mobile prices max 60 Ct./Call) and at the well-known ticket agencies, from Tuesday, October 30, 2018 - 10:00 clock tickets can be purchased at the ticket providers CTS
Eventim
and MyTicket Presale.
Tour Dates

06.07.2019 - ULM - Klosterhof Wiblingen
09.07.2019 - MAINZ – Zitadelle
12.07.2019 - GELSENKIRCHEN - Amphitheater Gelsenkirchen
Additional Concert Info

Doors: 19:00
Start: 20:00
Tickets: 80.00 € to 104.00 € plus fees via myticket.de and
Eventim
More Info: https://www.facebook.com/amphitheater/
Facebook Event: https://www.facebook.com/events/2009016325847402/
More on Foreigner