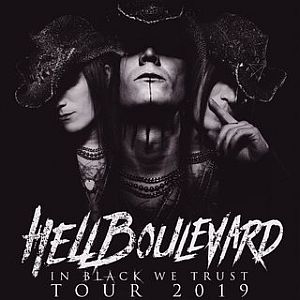 Logo, Hamburg, Germany
23rd February 2019
Hell Boulevard - "In Black We Trust" Tour 2019 - Special Guest: Johnny Deathshadow

HELL BOULEVARD hit back with their second album 'In Black We Trust', released on 24th August 2018, and are more on the road than ever before. Te band was formed by Matteo vDiva Fabbiani in 2014 after the break-up of his former band LOST AREA. HELL BOULEVARD are currently touring as special guests for MONO INC. and supporting them on their extended "Welcome To Hell" tour with 21 shows in total.
On their first own headliner tour in February 2019 they are playing six shows, including the tour final in Hamburg, at Logo Club. Here they are gonna present their Goth Glam Rock hits from their first two albums 'Inferno' and of course 'In Black We Trust'. They get great support by the Hamburg based band JOHNNY DEATHSHADOW who are also known for their great energy and party atmosphere at the shows.
And just currently HELL BOULEVARD announced to support the well-known LORD OF THE LOST on the second part of their German tour leg in Germany in spring 2019. So, no time to rest for the guys and for all of you, be sure to get a ticket. It's gonna be a dark party night deluxe.
Additional Concert Info

Doors: 19:00
Start: 20:00
Tickets: from 21.05 € (+ charges, additional shipping) via
Eventim
Info: https://www.logohamburg.de/programm-detail.php?datum=2019-02-23&quelle=programm
Artist: https://www.facebook.com/hellboulevard / https://www.facebook.com/johnnydeathshadow
More on
Hell Boulevard
and
Johnny Deathshadow