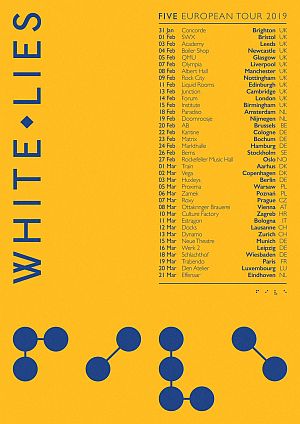 Die Kantine, Cologne, Germany
22nd February 2019
White Lies


For a good ten years, WHITE LIES have been playing their New Wave influenced Post-Punk. No, actually longer, because singer and guitarist Harry McVeigh - whose voice was not quite wrong compared to JOY DIVISION's Ian Curtis - bassist Charles Cave and drummer and keyboardist Jack Lawrence-Brown know each other from school and played under the name FEAR OF FLYING. But a new musical direction called for a renaming, under the new name WHITE LIES they released their style debut album 'To Lose My Life...' in 2009 and reached directly the top position in the British charts.
The elegiac breadth of their songs, the melancholy in Harry McVeigh's vocals, warm melodies and icy sound become the trademarks. Three more records followed, the conceptual 'Ritual', the iconic 'BigTV' and most recently in 2016 'Friends'. This year, the trio takes the first step on its new journey to its fifth album. As always, WHITE LIES have expanded their sound space, leaving plenty of room for new addition to the proven wide-walled guitar and synth sounds. The harmony between keyboard-heavy sounds, grumpy riffs as well as strong melodies and harmonies is driven here to new, unheard-of heights.
Of course, this also brings great things for the upcoming tour of the British. WHITE LIES have always been known for their intense and sprawling shows. Or as the Swiss online magazine wavebuzz.ch wrote about the previous tour: "The concert of the London band WHITE LIES was deafeningly beautiful. Harry McVeigh delighted the masses with his dark-clear vocal organ beyond measure. Joy and grief, love and hate are neurologically closely entwined - the music of the WHITE LIES moves on the borders of these opposites and balances them out." In the coming February and March, WHITE LIES will present their new and old songs live on stage.
Additional Concert Info

Doors: 18:30
Start: 19:30
Tickets are available for 29.45 euros + charges (pre-sale) via
Eventim
More Info: https://prime-entertainment.de/index.php?id=34&eventid=5365
More on
White Lies