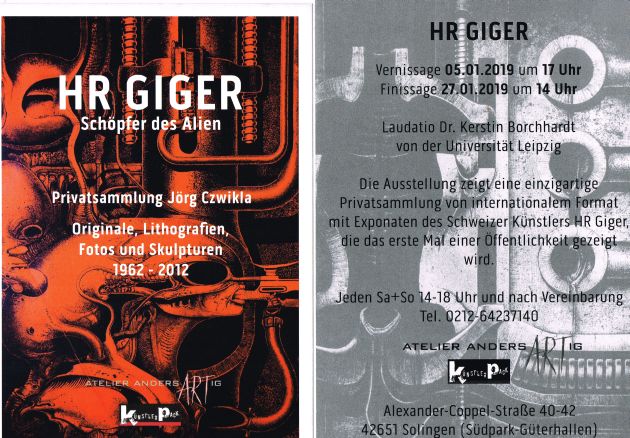 The exhibition of international format presents the unique private collection of Jörg Czwikla with exhibits by the Swiss artist H.R. Giger, which will be shown to the public for the first time. In addition to originals, lithographs, sculptures and private photos, original pieces of the legendary Giger bar in Tokyo, which were considered lost or destroyed, will be on display.
After Jörg Czwikla was invited to a major retrospective in Davos in 1991 by Giger's then wife Mia, his passion for collecting began. He was fascinated by the size and detail of the pictures, which could only be seen in the originals. Years later, he managed to establish contact with a very close friend of Giger and through him he received many invitations to exhibitions of Giger throughout Europe as well as contacts with other collectors and curators. "The art of HR Giger still fascinates me tremendously," says Czwikla, "as new works appear time and again. It is timeless for me!"
The exhibition is supported and presented by Janine Werner and Ingo Schleutermann in the Solingen Ateliers AndersARTig and KünstlerPack. Both exhibited as artists in the Giger tribute exhibition "Creators Of Legends" in the Giger Museum in Gruyere and Mexico City and are very familiar with the scene. The laudatory is spoken by Kerstin Borchhardt, who works as an art historian at the University of Leipzig and has been dealing with this art for years.
Exhibition Details
Exhibition Opening
:
5 January 2019
Venue: Ateliers AndersARTig and KünstlerPack, Alexander Coppel Road 40-42, 42561 Solingen
Start: 17:00 o'clock
Duration of the exhibition: 5 – 27 January 2019
Opening hours: Every Saturday u. Sunday 2pm - 6pm and by appointment.
Tel.: +49 (0) 212-64237140