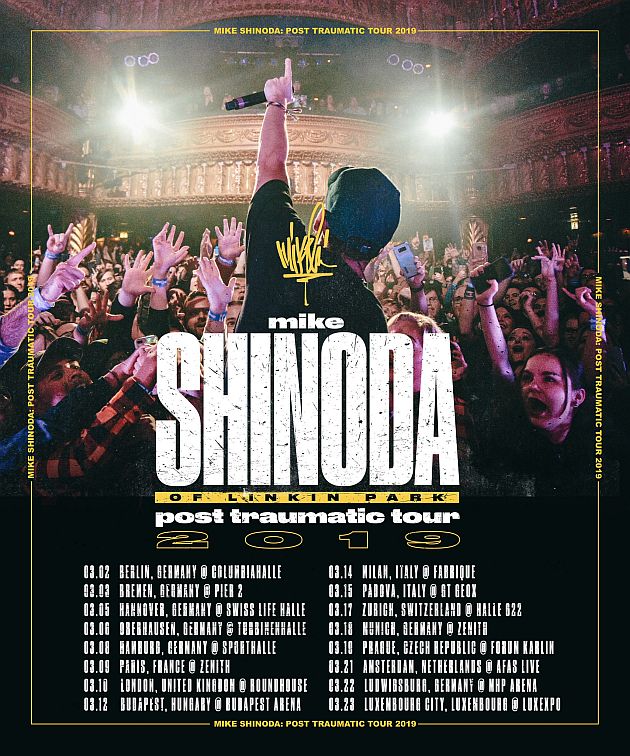 Turbinenhalle, Oberhausen, Germany
6th March 2019
Mike Shinoda - "Post Traumatic" Tour

Over 70 million albums sold, two Grammy Awards, seven international number one albums, more than 5.5 billion YouTube clicks: LINKIN PARK is undoubtedly one of the most important contemporary Rock acts. But all these achievements did not stop singer Chester Bennington from taking his own life in July 2017. The emptiness, helplessness, and sadness that then erupted among his friends and bandmates searched for the most varied ways of processing; his co-front man MIKE SHINODA did this through art. The result was the album 'Post Traumatic', which was released on June 15, his very personal account of the concept of loss and sadness - and how one can free oneself from these traumatic events. Afterwards, MIKE SHINODA will play some selected concerts worldwide, including one in Germany: On August 29, he will be guesting in the Cologne Palladium.
July 20, 2017 was a day when the world held its breath: with Chester Bennington, one of the most successful and globally beloved singer of a Rock band had committed suicide. The global dismay was tremendous, the pain of his band members beyond our imagination. In particular, MIKE SHINODA, co-front man, co-producer, co-writer and Bennington's closest friend, suffered heavily from this tragic loss. SHINODA took refuge in the art. Initially aimless and purely occupational therapy, the trained graphic artist wrote songs, painted, drew and filmed videos, and it was only during this process that he realized that he was apparently well on the way to putting a multimedia endpoint to farewell to his longtime vocal partner.
For more than 20 years, the two had spent side by side on stage and climbed with LINKIN PARK to the most successful Rock musicians of the new millennium. Their albums have regularly topped the international album charts since 'Meteora' in 2003, their tours have become true masses of modern Rock music. And not least thanks to their open-minded approach to unite different styles. Her front man and MC MIKE SHINODA has always been responsible for the Hip-Hop portion of LINKIN PARK's songs, as evidenced by his interruptive since 2005 pure Hip-Hop project FORT MINOR.
Also for his now released solo album 'Post Traumatic' it was first Rap text lines that SHINODA wrote. He dealt with the themes of grief, loss and humility before life. At the same time, he began to paint pictures, draw sketches, and compose song structures, all in a kind of fever dream to escape the pain. In January, the 'Post Traumatic EP', a highly personal work by SHINODA and three songs with accompanying videos, also shot by him, was released. But all of this was only the beginning of his journey out of a personal trauma, which made him thrive more and more in the course of his work.
In the end, the 16 songs of the long-player, which skillfully oscillate between Rock and Hip-Hop and show SHINODA's voice in an unprecedented richness of facets, are, according to their producer, "a very universal view of the themes of grief and loss. Anyone who has had a similar experience as myself will hopefully find comfort in these songs; anyone who has not had a comparable experience will be all the happier to be spared from the sincerity and personality of the songs." And so this release as well as the subsequent concerts should also be understood as an encouraging example that even the worst tragedies can be overcome.
After some shows last summer, SHINODA now returns to Germany for seven shows!
Live Nation presents Mike Shinoda - Post Traumatic Tour 2019

02 Mar 19- Berlin, Columbiahalle
03 Mar 19 - Bremen, Pier 2
05 Mar 19 - Hanover, Swiss Life Hall
06 Mar 19 - Oberhausen, Turbinenhalle
08 Mar 19 - Hamburg, Sporthalle
18 Mar 19 - Munich, Zenith
22 Mar 19 - Ludwigsburg, MHP Arena
Additional Concert Info

Doors: 19:00
Start: 20:00
Tickets: are available for 50.65 euros plus charges (pre-sale) via
Eventim
More info: https://www.dbe.ag/k/mike-shinoda
More on
Mike Shinoda