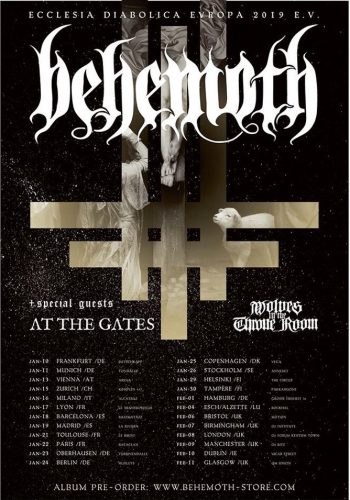 Rockhal, Esch sur Alzette, Luxembourg
4th February 2019
Behemoth - "Ecclesia Diabolica Evropa 2019 e.v." Tour - Support: At the Gates, Wolves in the Throne Room

In the tradition of Death Metal music, singer Adam "Nergal" Darski founded the band BAPHOMET back in 1991. His two companions, drummer Adam "Baal" Muraszko and guitarist Adam "Desecrator" Malinowski, completed the unique "Adam-Trio".
One can hear their warmth to bands like SAMAEL and CELTIC FROST already in their first demos, 'Endless Damnation' and 'The Return of the Northern Moon'. And in their successor, '…From the Pagan Vastlands' (1993), one also finds the obscure influences by VENOM, TIAMAT AND MORBID ANGEL. 1994 was the year for the first release of their EP 'And the Forests Dream Eternally' through the Italian label Entropy Productions. The change of their name into BEHEMOTH was one of the decisions they made on their way up.
Nergal and his bandmates now have channelled their passion into "I Loved You At Your Darkest". A crushing salvo of Black Metal majesty replete with hellish riffs, thundering drum cannonades and soaring liturgical choirs reminiscent of classic horror cinema, the album is also bejewelled with nimble-fingered rock guitar solos on their new blasphemic songs.
Additional Concert Info

Doors: 18:30
Start: 19:30
Information & Tickets: https://www.rockhal.lu/events-tickets/metal-heavy/show/detail/behemoth-at-the-gates-wolves-in-the-throne-room/
Facebook Event: https://www.facebook.com/events/1122694427885286/
More on
Behemoth
,
At the Gates
,
Wolves in the Throne Room