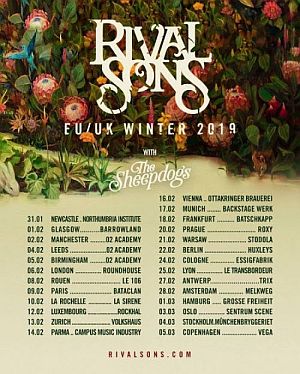 Rockhal, Esch sur Alzette, Luxembourg
12th February 2019
Rival Sons, The Sheepdogs

RIVAL SONS were formed in California in 2009 and currently comprises of band members Jay Buchanan (Vocals), Scott Holiday (Guitar), Michael Miley (Drums) and Dave Beste (Bass), who have carved a classic but unique Blues / Rock sound taking inspiration of the greats from the 60s and 70s. The band currently has four studio albums with the release of their newest LP, 'The Great Western Valkyrie', and along the way they have claimed prestigious awards such as Classic Rock Awards breakthrough artist of the year award in 2012.
Now, RIVAL SONS go back to their animal roots: 'Feral Roots' is the title of the highly anticipated new album that the Californian band has now announced for January 25th. RIVAL SONS recorded their new album at the legendary RCA Studio in Nashville and the no less historic Muscle Shoals Sound Studio in Alabama. Producer is Grammy winner Dave Cobb, the band's long-time companion, whose label Low Country Sound also releases the work. 'Back in the Woods' also marks Warner Music's debut and follows the 2016 release of the album 'Hollow Bones', which reached number 12 in the German charts. The album's impressive artwork was painted by the well-known contemporary artist Martin Wittfooth.
At the beginning of 2019 RIVAL SONS will present their new songs live, supported by THE SHEEPDOGS.
Additional Concert Info

Doors: 19:00
Start: 19:30
Information & Tickets: https://www.atelier.lu/Upcoming-Shows/Rival-Sons
Facebook Event: https://www.facebook.com/events/174639096780150/
More on
Rival Sons
,
The Sheepdogs