Turbinenhalle, Oberhausen, Germany
16th March 2019
E-Tropolis Festival 2019 with Apoptygma Berzerk, Die Krupps, Suicide Commando, Solar Fake, Welle:Erdball and many more

Waiting on with the finest in EBM, electropop and industrial, the E-Tropolis Festival marks a mandatory date for the dark-electro scene. Sold out for the first time in 2018, we are looking back at the most successful E-Tropolis Festival so far while at the same time forward to setting-off another cracking celebration á la maison in 2019. "Better - Harder - Louder" - on 16. March at Turbinenhalle Oberhausen as well as 15. March at Turbinenhalle 2 with the official pre-party.
It is already the sixth time that the E-Tropolis Festival will take place at the Turbinenhalle in Oberhausen after the festival moved from Berlin to the Ruhr valley in 2014. And again the line-up is a whoopee for everyone who loves electronic music from the dark side! Headliners are APOPTYGMA BERZERK, guaranteeing a splendid end of the festival day. As always, lovers of several kinds of electronic music will find their favourite bands within the line-up: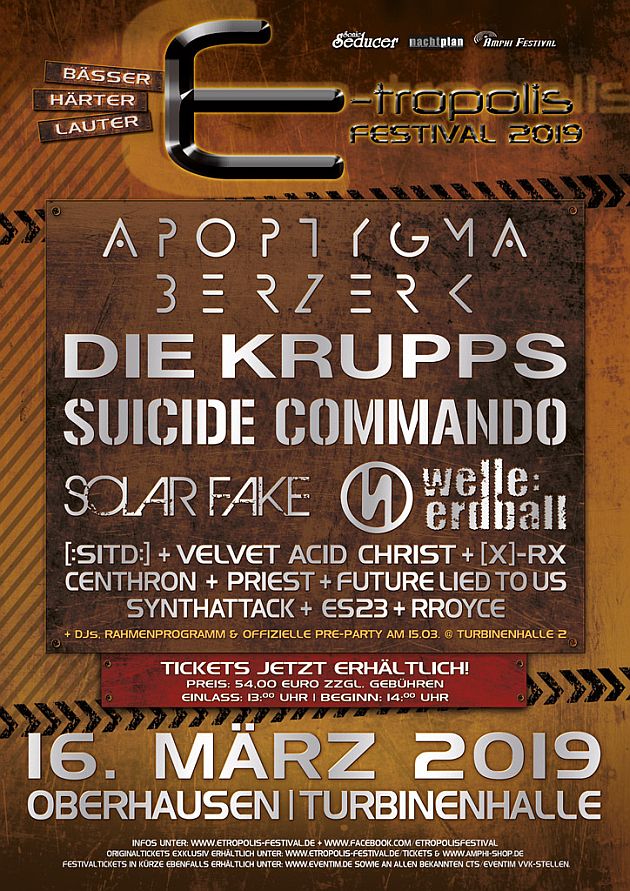 So it's quite a line-up in a location which couldn't be more perfect for this kind of music. The Turbinenhalle is a former industrial building, a hydroelectric power plant for the Ruhr valley's past steel industry, to be more precise. Quite apt for a festival for EBM, Synth Pop and Industrial! The move from Berlin to Oberhausen was also a smart move in other regards, since the Ruhr area is one of Europe's largest urban agglomerations and a place which is a traditional stronghold of all things EBM, Industrial, Gothic and so on. Plus it's rather close to Belgium and the Netherlands and thanks to the many airports there it's just a short flight from most European countries. You should definitely get your tickets in advance! For more information check the links below!
E-Tropolis Pre-Party

The official E-TROPOLIS PRE-PARTY goes into its third round and therewith contributes to a still young but very fine tradition. On Friday, 15 March, we invite you to party with us at Turbinenhalle 2. From 10:00 pm we dive into the night, once again with three excellent DJs who announced their participation. Masters of their craft, to pick up the tone of the main event with a variety of dark electronic tunes:
JOHAN VAN ROY (Suicide Commando)
SVEN FRIEDRICH (Solar Fake)
MSTH (ElectronicDanceArt)
For all festival visitors who show their E-Tropolis Festival 2019 ticket at the entrance, admission to the pre-party is for free. f you want to attend the pre-party only, you can of course buy standalone party tickets at the doors from 10:00 pm on. The price is 8.00 € each. We are looking forward to seeing you all soon!
Warm-up parties
The countdown has begun! On 16.03. at Turbinenhalle Oberhausen we once more launch the powerhouse for the 9th E-tropolis Festival. Fittingly we are happy to announce a series of nationwide warm-up parties forming the road to the festival! These are the dates:
09.02.19 DE - Stuttgart | paradox.
16.02.19 DE - Kassel | Panoptikum
16.02.19 DE - Herford | X
16.02.19 GR - Athen | Skull Bar
22.02.19 DE - Berlin | Nuke Club
02.03.19 DE - Siegen | Vortex Surfer
02.03.19 DE - Essen | Zeche Carl
02.03.19 DE - Marburg | Till Dawn
03.03.19 DE - Mülheim a.d. Ruhr | The Inner Circle
07.03.19 DE - Oberhausen | Eisenlager
07.03.19 DE - Kassel | Goldgrube
08.03.19 DE - Karlsruhe | Nachtwerk
08.03.19 DE - Osnabrück | Hyde Park
09.03.19 DE - Bonn | Das Sofa
09.03.19 DE - Dortmund | BEDO Studio
Additional Festival Information

Doors: 01:00 pm
Starts: 02.00 pm
Ticket fee: 60 euros + Charges (Pre- Sales)
Tickets can be bought at https://www.amphi-shop.de/article/809.html /
Eventim
Info: http://etropolis-festival.de