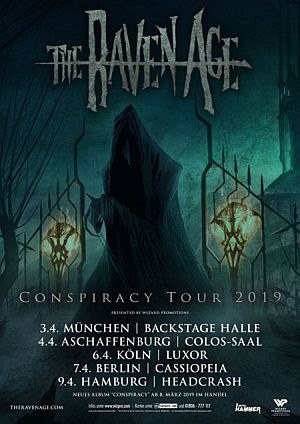 Luxor, Cologne, Germany
6th April 2019
The Raven Age - "Conspiracy" Tour 2019

On December 10th THE RAVEN AGE finished their European tour with TREMONTI, the band of CREED / ALTER BRIDGE guitarist Mark Tremonti. Now the British Melodic Metal band THE RAVEN AGE are announcing a new album for 2019 as well as first headline tour through Germany.
For many critics THE RAVEN AGE are something like the torchbearers of the next generation in British Metal. Their unique style, a mixture of monstrous riffs and gripping rhythms paired with catchy melodies and a small dash of epic silence, has not only produced an EP ('The Raven Age', 2014) and a regular album ('Darkness Will Rise', 2017), the quintet has also been on stage with such genre greats as KILLSWITCH ENGAGE, MASTODON, TREMONTI, ANTHRAX, IRON MAIDEN, GHOST and many more. Now the next album 'Conspiracy' will be released on 8 March 2019 on the band's own label Corvid Records. The track 'Fleur De Lis', which derives its title from the old symbol of the French royal house, is now available digitally as the next single and as a forerunner of the album.
THE RAVEN AGE have had a penchant for ancient symbolism since their founding in 2009, the lyrics of their debut 'Darkness Will Rise' (2017) do not only deal with the theme of the Tower of London, from which they derived their name. The critically acclaimed debut is supported by magazines like Metal Hammer and influential radio stations like Planet Rock. The latter has chosen THE RAVEN AGE as "Best New Band 2017", followed by appearances at renowned festivals such as Bloodstock, Hellfest, Wacken Open Air, Rock Am Ring/ Rock Im Park and Download. On many more tours all over Europe they made a name for themselves, after the addition of singer Matt James and guitarist Tony Maue the band structure has solidified even more and the sound has changed a bit, matured and more open.
This new stage in the British career is clearly visible on 'Conspiracy', as co-founder, guitarist and producer George Harris (son of Iron Maiden bassist Steve Harris) explains: "We're so proud of the whole thing – it's still within the influence of the band, but we've turned to new themes and sounds. Of course, a lot has to do with the new singer Matt, who opens up new possibilities for us. With him on board we have developed enormously since our debut". Like the first album, many songs are inspired by an interest in history, myths and conspiracy theories; the lyrics tell of despair and inhumanity in different epochs of contemporary history, immerse in the life lines and experiences of people from past centuries. The album is something like a continuation of the first album, because both the artwork and the lyrics contain various references to the band and their image.
With 'Conspiracy' THE RAVEN AGE have produced more than one album, instead they are laying the next artistic foundation for a thought-out identity as an independent band. "I've always been fascinated by the ravens in the Tower of London," George explains. "The fact that this name is associated with a conspiracy theory inspired the album, the cover and everything around it. In this fantasy world the ravens are held captive in the Tower, they're not there because they want to be. Their wings are trimmed and they are prisoners of the Tower to protect Britain from destruction. This album develops the story with all its different aspects."
Additional Concert Info

Doors: 18:00
Start: 19:00
Tickets are currently available for 22.55 EUR via
Eventim
More Info: http://www.luxor-koeln.de/event/the-raven-age/
More on
The Raven Age