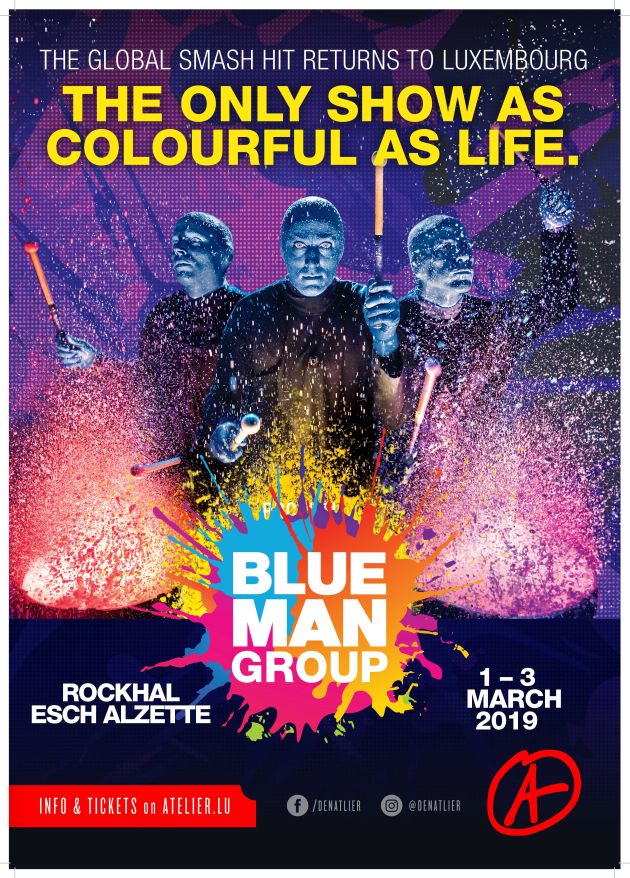 Rockhal, Esch sur Alzette, Luxembourg
1st March 2019
Blue Man Group

A-Promotions is thrilled to announce the return of the BLUE MAN GROUP; the wildly popular theatrical phenomenon will be visiting Luxembourg once again as part of its World Tour from March 1st to March 3rd. The award-winning stage show, best known for its trio of bald and blue performers, will be coming to Rockhal in 2019, after selling out a week's residency at the Grand Théâtre in 2017.
BLUE MAN GROUP performances mix art, music, comedy, and state-of-the-art technology to create a sublime celebration of human connection. A joyful, unforgettable, multi-sensory experience, BLUE MAN GROUP has captivated more than 35 million people of all ages and cultures worldwide. The new BLUE MAN GROUP World Tour showcases classic Blue Man favourites along with brand new content as they continually update and refresh their shows with new music, fresh stories, custom instruments and state-of-the-art technology.
Co-founder Chris Wink says, "When we first began creating performances centered on this innocent, curious character called Blue Man, we never dreamt where he would lead us. We are so honoured to be able to share our show with the people of Luxembourg and beyond." "Perhaps because we've always been interested in exploring our collective need for human connection, the Blue Man character seems to speak to so many people from all ages, cultures, nationalities. We believe the Blue Man's universal message of joyful exuberance and euphoric celebration resonates within all of us," adds Co-founder Phil Stanton.
"We are over the moon to have the rousing and frantic BLUE MAN GROUP back in Luxembourg after first colourful entrance in 2017. Overwhelmed by the high demand we have put all our efforts into bringing them back to the Grand Duchy. During the 9 sold-out shows the Blue Men grew dear to our hearts and we are happy to give even more people the chance to make this special experience," says Promoter Michel Welter.
Founded by three close friends Chris Wink, Matt Goldman and Phil Stanton in New York City in 1991, BLUE MAN GROUP has since grown to include permanent shows in New York, Las Vegas, Boston, Chicago, Orlando and Berlin, as well as a World Tour. Beyond the stage show, BLUE MAN GROUP has toured the globe with the "Megastar World Tour" Rock concert parody, and produced multiple albums, including the Grammy-nominated Audio, and the recently released THREE. To commemorate their 25th anniversary, BLUE MAN GROUP released their first-ever book, Blue Man World, a visually stunning anthropological exploration of the curious bald and blue character.
"It is the first time that the Rockhal will be transformed to a unique and cozy theatre. The risers will be closer to the stage, with sight lines improved. We have been working closely together with the team of BLUE MAN GROUP and the Rockhal in order to create this special and intimate atmosphere," adds Promoter Michel Welter. So be prepared to join in the fun throughout the 90-minute show!
BLUE MAN GROUP - It's the only show as colourful as life.
Additional Concert Info

Show dates: February 28th / March 1st (sold out), 2nd (Matinée sold out; Tickets for Evening show available) & 3rd (Tickets for Matinée available; Evening show sold out)
Matinée: Doors: 15h00 / Start: 16h00
Evening Show: Doors: 19h00 / Start: 20h00
Facebook Event: https://www.facebook.com/events/178555612826362
Information & Tickets

Tickets are available on www.atelier.lu, price categories as follows:
Cat1: 64€ (excluding costs)
Cat2: 48€ (excluding costs)
Splash Zone: 78€ (excluding costs)
Ticket prices are reduced for children under the age of 12:
Cat1: 54€ (excluding costs)
Cat2: 38€ (excluding costs)
Splash Zone: 68€ (excluding costs)