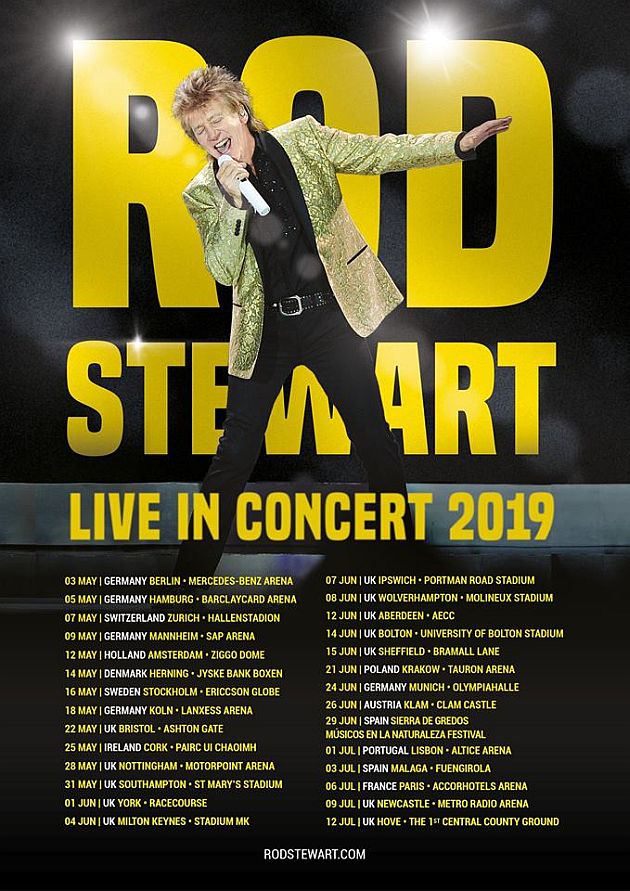 Lanxess Arena, Cologne, Germany
18th May 2019
Rod Stewart - Live in Concert

In May 2016 Sir ROD STEWART was in Germany for the last time. Now he returns in late spring 2019 for five concerts. His distinctive, smoky voice, his striking humor and sexiness (with Penny Lancaster he married for the third time in June 2007), his brilliant live performance and charisma have made the British, a passionate fan of Scottish football club Celtic Glasgow, to one of the most successful singers and entertainers of all time.
His success runs through all genres of popular music, whether Rock, Folk, Soul, or R'n'B. For the 50th anniversary of his creative period - the first album, 'An Old Raincoat Won't Never Let You Down', was released in 1969 - the 74-year-old star and entertainer is now on tour again to present his songs, hits and classics to fans and friends live in Germany, Austria and Switzerland. He brings along with his now 30th studio album, 'Blood Red Roses', completely new material from 2018.
Let's look forward to the British singer with the highest honours in the music industry, who was knighted at Buckingham Palace in 2016, cheering and clapping for his world hits like 'Maggie May', 'Da Ya Think I'm Sexy', 'Baby Jane', 'The First Cut Is The Deepest', 'I Do not Want To Talk About It', 'Tonight's The Night', and of course 'Sailing'. I quote ROD STEWART: "I'm looking forward to great, energetic shows with my wonderful fans in Germany. I'm going to perform my biggest hits - and of course there will be some surprises again, including the songs of his 30th studio album released in the fall of 2018 'Blood Red Roses'".
German, Austrian and Swiss Tour Dates
03 May 2019 - Berlin, Mercedes-Benz Arena
05 May 2019 - Hamburg, Barclaycard Arena
07 May 2019 - Zurich, Hallenstadion (Switzerland)
09 May 2019 - Mannheim, SAP Arena
18 May 2019 - Cologne, LANXESS Arena
24 Jun 2019 - Munich, Olympiahalle
26 Jun 2019 - Klam, Burg Clam (Austria)
Additional Concert Info

Start: 19:30
Tickets: are available from 77.15 € plus charges (pre-sale) via
Eventim
Info: https://www.facebook.com/rodstewart / https://www.rodstewart.com
More on
Rod Stewart