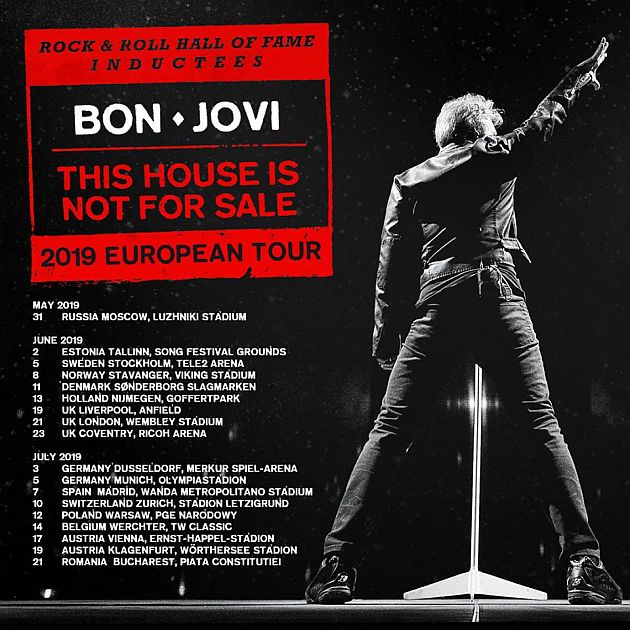 Merkur Spiel-Arena, Düsseldorf, Germany
3rd July 2019
Bon Jovi - "This House Is Not For Sale Tour" - Special Guests: Def Leppard

For the first time in six years, BON JOVI, one of the biggest Rock bands, is back live in Europe to thrill fans and friends on an extended stadium tour in July 2019. In the course of their triumphant world tour, they return to Germany. In addition to two concerts in Düsseldorf and Munich, there are another visits in Switzerland (Zurich) and with Vienna and Klagenfurt also in Austria.
The last record, 'This House Is Not For Sale', was released in November 2016. This 13th studio album brought the American rockers from New Jersey the top spot in the American album charts, again. Since their founding in the early 1980s, when they were stylistically still in Glam Rock, while they have made a name for themselves in the mainstream since the 1990s, they have sold more than 130 million albums. The hit density of the band is huge. Every music fan knows songs like 'You Give Love A Bad Name', 'Livin' On A Prayer', 'Bad Medicine', 'I'm Be There For You', 'Keep The Faith', 'Blaze Of Glory' or 'It My Live'.
However, the band can choose from around 95 songs and reshape each gig. We look forward to refreshing Rock and a lot of party with Jon Bon Jovi, David Bryan, Tico Torres and the two new members, namely Hugh McDonald on bass and Phil Xenidis on lead guitar. "We feel completely revitalized," says Jon. "A strengthened line-up that kills every night. We sound better than ever and enjoy every minute. We go out as a band, inspire each other and the fans and have the best time of our lives."
By the way, there are no less than the great DEF LEPPARD confirmed as special guests. They started in 1977 as a school band and belong with their albums 'On Through the Night', 'High N' Dry' and especially 'Pyromania', alongside SAXON, IRON MAIDEN, JUDAS PRIEST and others, to the pioneers of the New Way Of British Heavy Metal. This style spilled over from Great Britain to Europe and revolutionized a whole genre of music. In 1987 appeared 'Hysteria', the most successful album of the British, with 20 million copies sold. Guitarist Steve Clark died on January 8, 1991 and was replaced by former DIO guitarist Vivian Campbell. All other band members have been with the band since 'Pyromania'. The last release of the Rockers is the self-titled album, 'Def Leppard', from October 2015.
German, Swiss and Austrian Tour Dates

03 July 2019 - Düsseldorf, Merkur Spiel-Arena
05 July 2019 - Munich, Olympiastadion
10 July 2019 - Zurich, Stadion Letzigrund
17 July 2019 - Vienan, Ernst-Happel-Stadion
19 July 2019 - Klagenfurt, Wörthersee Stadion
Additional Concert Info

Start: 18:30
Tickets: are available for 98.10 € plus charges (pre-sale) via
Eventim
Info: https://www.dbe.ag/k/bon-jovi
More on
Bon Jovi
and
Def Leppard