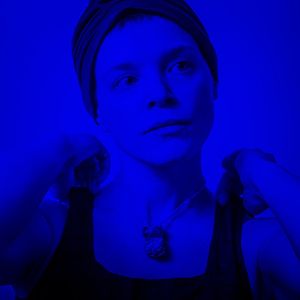 Not only is WALLIS BIRD new to Landstreicher Booking but this year she will also go on an extended tour through selected concert halls in Europe and the UK. She is also preparing for the release of her sixth solo album which will be ready in autumn. Tickets for all dates are available from 14 Feb 2019 at all known ticket agencies.
Wanted: Purveyor of Folk Roots & Soul.
Found: Wallis Bird, a reliable guarantor for the explosive mix of music styles.
For years Wallis has been stretching her voice like a steel cable between Folk, Rock, Pop and Soul. Now the Berlin-based Irishwoman has announced her tour: Over 50 concerts across Europe, Australia, New Zealand, Japan and North America, many of them in special concert halls (e.g. the Berliner Kammermusiksaal of the Philharmonie or the legendary Vicar Street-Theater in Dublin). "This tour is called 'New Moon Tour'," explains Bird, "because the symbolism of the moon is important to me: It stands for the transition of the world, its femininity, the passing of time and new beginnings, but also for the dark side of the light. All these points reflect how I feel about my current life point, this is my 'new moon'."
The new album - her sixth studio album - will be released in autumn 2019. Her roots are in Irish Folk, whose eternal truths have always flowed through her songs. This time, however, it comes with a strong Soul imprinting. Bird continues, "The new album, compared to my earlier albums, will be based on quite different tone and harmony structures, soul in every meaning of the term, soulful furore, my only artistic constant remains my urge for constant evolution, both musically and in structure."
Bird's jubilant Janis Joplin-style temperaments, will immediately delight visitors to the upcoming shows. Anyone who has experienced one of her solo performances knows just what to expect. Step by step WALLIS BIRD has developed her career and gained the respect of critics and fans. Her track record is impressive: more than 800 concerts worldwide in the last 12 years, twice she won the Irish Music Prize (Meteor Award), twice she was nominated for the Irish Choice Prize (Irish equivalent to the Mercury Prize), 2017 She won the German Music Authors Award (category Rock / Pop) and in 2019 she was nominated for the US International Folk Music Award.
Tickets for the "New Moon Tour" 2019 by Wallis Bird are available from 14 Feb 2019 at all known ticket agencies like
Eventim
.
Wallis Bird - "New Moon Tour" 2019

07 Oct 19 - Jena, Volksbad
08 Oct 19 - Hanover, Pavillon
10 Oct 19 - Berlin, Kammermusiksaal der Philharmonie
11 Oct 19 - Leipzig, Felsenkeller
12 Oct 19 - Rostock, Volkstheater
13 Oct 19 - Dresden, Beatpol
15 Oct 19 - Leuven (BE), Het Depot
16 Oct 19 - Bremen, Tower
17 Oct 19 - Hamburg, Laeiszhalle
18 Oct 19 - Bochum, Christuskirche
19 Oct 19 - Fulda, Kreuz
21 Oct 19 - Stuttgart, Theaterhaus
22 Oct 19 - Zurich (CH), Papiersaal
24 Oct 19 - Konstanz, Kulturladen
25 Oct 19 - Munich, Technikum
26 Oct 19 - Vienna (AT), Theater Akzent
27 Oct 19 - Graz (AT), Orpheum
30 Oct 19 - Linz (AT), Posthof
31 Oct 19 - Gera, 1880
01 Nov 19 - Würzburg, St. Johannis
02 Nov 19 - Freiburg, Jazzhaus
04 Nov 19 - Mannheim, Capitol
05 Nov 19 - Erlangen, Hugenottenkirche
06 Nov 19 - Frankfurt a.M., Heilggeistkirche
07 Nov 19 - Münster, Effata Kirche
08 Nov 19 - Cologne, Kulturkirche
09 Nov 19 - Amsterdam (NL), Paradiso
16 Nov 19 - Belfast (UK), The Duncairn
17 Nov 19 - Dundalk (IR), The Spirit Store
20 Nov 19 - Limerick (IR), Dolans
21 Nov 19 - Dublin (IR), Vicar Street
22 Nov 19 - Wexford (IR), Opera House
23 Nov 19 - Galway (IR), Black Box
24 Nov 19 - Cork (IR), The Everyman Theatre
27 Nov 19 - London (UK), Bush Hall
More on
Wallis Bird