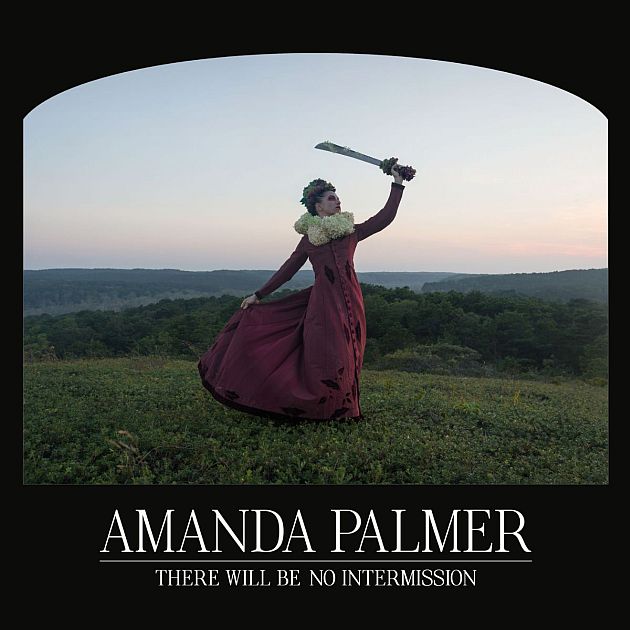 As already known, AMANDA PALMER's new studio album, 'There Will Be No Intermission', will be released on March 8th. Today the artist announces tour dates for 2019 in the UK and Europe and releases the new single 'Voicemail for Jill', a scorching and rugged, classically-styled piano song inspired by Palmer's lifelong role as pro-choice activist and confidante for women (and men) who have had the complicated, often very private, experience of having to terminate a pregnancy. The song - written after a tour and during the landmark referendum in Dublin on the legalization of abortion - has been slumbering in her pile of songs for ages. She describes it as a "white whale of songwriting," according to Palmer, who herself has undergone three abortions and has been "struggling for years to find the right way to write about the subject without sentimentality, preaching or apologizing".
"I wrote this song as a gift, as a handbook," Palmer says, "for any woman on her way to an abortion and as a reminder that this is not an experience to be undertaken alone." 'Voicemail for Jill' was recorded in Los Angeles with GRAMMY®-winning producer / engineer John Congleton, presented by Palmer on piano and vocals, and features an additional synthesizer and programming by Max Henry of the Canadian Indie band SUUNS. It is now available on all digital streaming platforms or can be heard here.
Amanda Palmer will be live on the following dates in autumn

06.09. Berlin – Admiralspalast
11.09. Munich – Kongresssaal
13.09. Offenbach – Capitol
14.09. AT- Vienna – Konzerthaus
15.09. AT-Graz – Stefaniensaal
18.09. Stuttgart – Theaterhaus
19.09. Essen – Colosseum
24.09. Hamburg – Laeiszhalle
25.09. Leipzig - Haus Auensee
Tickets:
http://bit.ly/AmandaPalmer_Tickets
Over the past few years, AMANDA PALMER, also known as the singer of THE DRESDEN DOLLS, has devoted herself to countless project. Now the time is finally ready for the first solo album of this polarizing artist since 'Theater Is Evil' in 2012. In March 2019, 'There Will Be No Intermission' is released, a record on which revealed the dark side of existence in general and Amanda personal crises in particular. The pianist herself explained; "Most of these songs were exercises in survival. This isn't really the record that I was planning to make. But loss and death kept happening in real-time, and these songs became my therapeutic arsenal of tools for making sense of it all". She added, "I've never been nervous about releasing a record before, but this one is different. The rise of global fascism alongside the spreading fire of #MeToo has forged a louder megaphone for all women, and we're all seeing that radical truth is infectious. I feel more urgency than ever to share the naked truth of my experiences. The kind of stories that I'm sharing on this record - abortion, miscarriage, cancer, grief, the darker sides of parenthood - have been therapeutic and frightening to write. But every time I play them for my friends and fans, the nodding heads of empathy have lit a fire under my ass to record and release them."
'There Will Be No Intermission' has been completely funded by around 12,000 supporters on the Patreon platform. But the fans of AMANDA PALMER have contributed not only financially to this album as was demonstrated by today's first single, 'Drowning In The Sound', which was created in August 2017. Back then, the artist asked her supporters to help her with the writing. Ideas and comments from this exchange flowed into the text of the piano ballad, in which AMANDA PALMER explored hidden links between political unrest, climate change, the then raging hurricane Harvey, the solar eclipse, rampant internet hate and Taylor Swift.
Accompanying the new album will be an art book with photographs that will provide a narrative and visual complement to the listening experience of 'There Will Be No Intermission'. The hardcover edition is reserved for her supporters on Patreon.
AMANDA PALMER is a singer, writer, pianist, activist and blogger who is committed to the traditions of music, theatre, community and art - but then deconstructs them just as passionately. She first became known as one half of the Boston-based punk cabaret duo THE DRESDEN DOLLS, which drew attention worldwide with their penchant for theatricality and idiosyncratic approach. AMANDA PALMER's solo career has proven to be equally bold and boundless: she has produced such ground-breaking works as the fan-funded 'Theater Is Evil', which climbed to the Top 10 on the SoundScan / Billboard 200 in 2012. In 2013, Palmer held a presentation titled "The Art of Asking" at the annual TED conference, which has since been viewed online over 10 million times. The following year, AMANDA PALMER deepened her thoughts on the subject and wrote a bestselling novel "The Art of Asking: How I Learned To Stop Worrying And Let People Help," of which the audiobook was featured on the New York Times bestsellers list.
In 2015, Palmer joined forces with the Patreon platform to develop their revolutionary model of an artistic community with and for fans. So far, 12,000 people have supported AMANDA PALMER's seemingly limitless creative work. The growing list of her work on Patreon - published on average twice a month by Palmer - now includes songs, original films (such as her politically charged video, 'Mr. Weinstein Will See You Now,' a collaboration with choreographer Noemie LaFrance, which took the Internet by storm), performance projects and 'I Can Spin A Rainbow', her celebrated collaboration with Edward Ka-Spel in 2017.