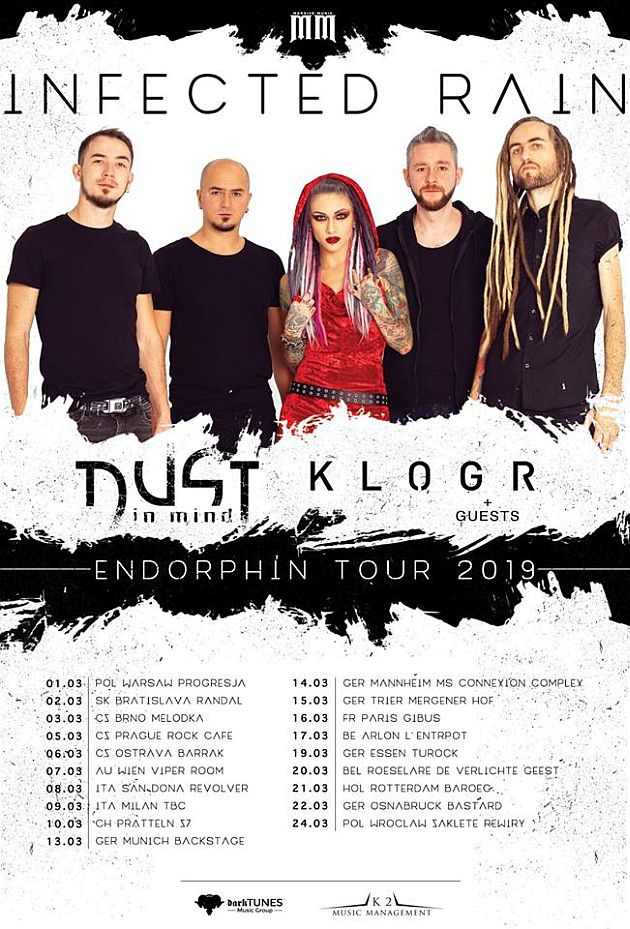 L'Entrepôt, Arlon, Belgium
17th March 2019
Infected Rain, Dust in Mind, Klogr

The Moldovan metal band INFECTED RAIN have announced a new tour for early 2019. INFECTED RAIN are far from the overly manufactured Metal many of us have grown accustomed to. Their style is an energetic blend of some of the best modern metal styles. A combination of female screaming, hard riffs and samples created the individual style of INFECTED RAIN.
The band was formed in 2008 and made their first appearance on stage on August 3, 2008, performing in a concert dedicated to SLAYER. At the end of the same month INFECTED RAIN recorded their first demo CD, which consisted of three songs. Over the next 2 years the band appeared in several concerts in Moldova, Romania and the Ukraine. The 25 November 2011 was marked by the release of the band's first album, entitled 'Asylum'. Their second album, 'Embrace Eternity', was released in May 2014 and was the reason of their big European tour in which they visited twelve countries. Their latest album, '86', was released in 2017.
Now the band around Lena Scissorhands will visit most of the major European cities again, kicking off the tour on March 1st in Warsaw, Poland. Reason for that tour is their upcoming album, 'Endorphin'. The support will come from DUST IN MIND, French Industrial / Modern Metal band fronted by Jennifer Gervais, and alternative band KLOGR from Italy.
Additional Concert Info

Doors: 19:00
Start: 19:30
Information: http://www.entrepotarlon.be/concert.php?id=1649
Tickets: https://www.fnactickets.be/fr/tickets/pop-rock-infected-rain-dust-in-mind-klogr-maneainf-lt.htm
Facebook Event: https://www.facebook.com/events/389283121640557/
More on
Infected Rain
,
Dust in Mind
&
Klogr