Leipzig, Germany
7th to 10th June 2019
28th Wave Gotik Treffen with Coppelius, Cradle Of Filth, Escape With Romeo, Goethes Erben, Haujobb, Kælan Mikla, Lene Lovich Band, Lord Of The Lost, M.I.N.E, Megaherz, Nitzer Ebb, Schandmaul, The Cassandra Complex, The Creepshow, The Foreign Resort, Velvet Acid Christ, Witt, Zweite Jugend - and many more

It seems like we just celebrated 25-years-anniversary of this unique festival, but here we go: the 28th edition is coming closer. Time just flies! There is no other event that can be compared to the Wave Gotik Treffen. Probably anyone could imagine how this event would turn out black in 1992 when about 2,000 people met in Leipzig to celebrate the Dark Wave and Goth music and lifestyle and get to know others with similar way of life. The Wave Gotik Treffen even survived the chaos year 2000 when the former organizers and the money disappeared, so the bands and staff couldn't be paid, but the visitors and some of the artists stuck to it and made even that very chaotic year something special and probably showed for the first time the real importance of it.
The Wave Gotik Treffen is not just a festival, and so it is not called a festival, but a very special gathering and with its uncountable amount of events and activities it is one of a kind. Though concerts make the main part of it, there are a lot of other events to be discovered: the huge Victorian Picnic that traditionally opens the festival on Friday afternoon with all the visitors who dress-up in breath-taking beautiful historical and creative outfits. There are (almost) no limits and so there are so many details to discover. As there are many different events at the same time all over the historical city of Leipzig there are also almost no "main events". Beside of concerts and meet-ups the program offers wine tastings theatre, classic concerts, author's readings, cinematic performances, creative workshops and much more. A children day-care program makes it even for parents possible to enjoy an industrial concert while their children are taken care of by professionals and can play with other children.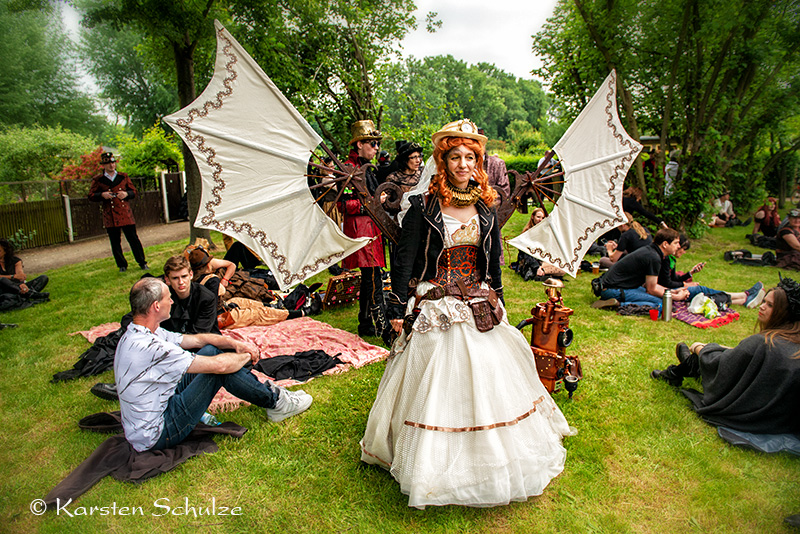 Over 50 venues offer a program that makes it for literally everyone possible to find something to enjoy. Visitors from all over the world of all genders and ages are coming ones a year to Leipzig during Pentecost to celebrate all shades of dark music and lifestyle culture that can be very colourful as well. One of the most special things about Wave Gotik Treffen is probably that it does not just take place in a limited area, but all over the city and so it feels like having entered a fantasy world while even being in the city centre and strolling around.
While for those who would like to stay in a hotel it is recommended to hurry up as some hotels are fully booked months before Pentecost, these who decide to stay at the camping ground get not just the short ways to the main venue AGRA with the biggest concert hall and a shopping hall, but also the AGRA party hall 4.2 is just next to it as well as the Pagan Village (Heidnisches Dorf) and last but not least the full festival atmosphere. For being able to use and enter the camping ground you need to buy the "Obsorge-Ticket" additionally to the festival pass. Also if you want to use the parking ground next to the AGRA an extra parking ticket, so called "Park-Vignette" is needed. For more information check below.
Bands

Currently there are 220 artists confirmed (per 3rd June 2019)
A Slice Of Life (B) - A Spell Inside (D) - Absurd Minds (D) - Agonoize (D) - Alien Vampires (GB) - Am Not (GB) - And The Golden Choir (D) - Anna Pelzser (H) - Argentum Ferrum (D) - Arhai (GB) - Arno Krokenberger (D) - Artwork/Belladonna (D) - Ashram (I) - Automelodi (CDN) - Autumn (USA) first European show - Axel Thielmann (D) - Ballett, Chor Und Orchester Der Musikalischen Komödie (D) - Banane Metalik (F) - Bannkreis (D) - Battle Scream (D) - Batushka (PL) - Benjamin Schmidt (D) - Bianca Froese-Aquaye (D) - Bragolin (NL) - Bremer Jugendkantorei (D) - Camerata Mediolanense (I) - Capella Fidicinia (D) - Carach Angren (NL) - Cat Rapes Dog (S) exclusive German reunion show - Cervello Elettronico (USA) - Chor Der Oper Leipzig (D) - Christian Death (USA) - Christian Von Aster (D) - Christine Owman (S) - Claudia Gräf (D) - Clemens-Peter Wachenschwanz (D) - Cold Showers (USA) - Coph Nia (S) - Coppelius (D) - Cradle Of Filth (GB) - Creux Lies (USA) - Cubanate (GB) - Darkcell (AUS) - Darkher (GB) - Das Ich (D) - Dear Deer (F) - Der Ringer (D) - Die Nerven (D) - DK Zero (USA) - Double Echo (GB) - Dystopian Society (I) - Edo Notarloberti (I) - Eggvn (MEX) - Eluveitie (CH) - Empathy Test (GB) - Empirion (GB) - Erik Cohen (D) - Escape With Romeo (D) - Evi Vine (GB) - Faelder (D) - Faun (D) - Fehlfarben (D) perform "Monarchie und Alltag" - Fliehende Stürme (D) - Folknery (UA) - Forced To Mode (D) - Freakangel (EST) - Freunde Der Italienischen Oper (D) - Friends Of Gas (D) - Fuchsteufelswild (D) - Ganaim (D) - Geometric Vision (I) - Gewandhauschor (D) - Gewandhausorchester (D) - Gitane Demone Quartet (USA) - Goethes Erben (D) - Golden Apes (D) 20th anniversary show feat. STEVE HEWITT (LOVE AMONGST RUIN, ex-PLACEBO) - Grausame Töchter (D) - Ground Nero (B) - Guy Figer (USA) - Hackedepiciotto (D/USA) - Hämatom (D) - Hante. (F) - Haujobb (D) - Hell Boulevard (CH) - Hell-O-Matic (D) - Henric De La Cour (S) - Hochmair & Die Elektrohand Gottes (A/D) - Hubertus Schmidt (D) - Human Tetris (RUS) - Ilan Bendahan Bitton (D) - Imperial Black Unit (F) - In Extremo (D) - In Strict Confidence (D) - In2TheSound (GB/D) Mike Dudley & The Convent play The Sound - Inade (D) - Inkubus Sukkubus (GB) - Intent:Outtake (D) - Ivo Nitschke (D) - Jakuzi (TR) - Janus (D) - Job Karma (PL) - Johanna Burkhardt (D) - Johannes Krampen (D) - Jonathan Bree (NZ) - Junges Kammerorchester Der Musikschule Bremen (D) - Jungstötter (D) - Karies (D) - Kellermensch (DK) - Killus (E) - King Dude (USA) full-band show - Klaus Märkert & The Eerie Glam Girls (D) - Knasterbart (D) - Kontravoid (CDN) - Kælan Mikla (ISL) - La Scaltra (D) - Laura Carbone (D) - Lene Lovich Band (GB) exclusive German festival show celebrating the 40th anniversary of the album "Stateless" - Light Asylum (USA) - Logic & Olivia (D) - London After Midnight (USA) - Lord Of The Lost (D) - Luigi Rubino (I) - Lukas Dreyer (D) - Lydia Benecke (D) - M.I.N.E (D) - Machinista (S) - Maerzfeld (D) - Männerchor Leipzig (D) - Markus Heitz (D) - Megaherz (D) - Meta Meat (F) - Michael Cashmore & Shaltmira (GB/LT) - Midgards Boten (D) - Mila Mar (D) - Moritz Eggert (D) - Morlas Memoria (D) - Murder At The Registry (D) exclusive 30th anniversary show - Nachtmahr (AT) - Nachtwindheim (D) - Nathan Giem (H) - Near Earth Orbit (D) - New Model Army (GB) - Nitzer Ebb (GB) - Norman Liebold (D) - October Burns Black (GB) - Omnimar (RUS) - Orange Sector (D) - Other Day (D) - OUL (D) - Parade Ground (B) - Patenbrigade:Wolff (D) - Phasenmensch + ICD-10 (D) - Pleasure Symbols (AUS) - Priest (S) - Psyche (CDN) - Radioaktivists (D) - Rhys Fulber (CDN) - S.K.E.T. (D) - Sad Lovers And Giants (GB) - Saeldes Sanc (D) - Sally Dige (DK/CDN) - Sanguis Et Cinis (D) exclusive 20th anniversary reunion show - Scarlet Dorn (D) - Schandmaul (D) - Schattenmann (D) - Schwarzer Engel (D) - Seadrake (S/ZA/D) - Sebastian Fitzek (D) reading "Der Insasse" - Selofan (GR) - Shadow Project 1334 (USA) First show of EVA O, WILLIAM FAITH and STEVYN GREY in 27 years - She Pleasures Herself (P) - Shir-Ran Yinon (D) - Sick Man (D) - Solar Fake (D) - Soman (D) - Sono (D) - Sonorus7 (D) - Spit Mask (USA) - St. Michael Front (D) - Still Corners (USA) - Susanne Krassa (D) - Synthattack (D) - System Noire (D) - Tamaryn (USA) - Tangerine Dream (D) - Tanzwut (D) - Tempers (USA) - The Adicts (GB) - The Bellwether Syndicate (USA) - The Cassandra Complex (GB) - The Creepshow (CDN) - The Foreign Resort (DK) - The Lust Syndicate (I) - The Moon And The Nightspirit (H) - The O'Reillys & The Paddyhats (D) - The Soft Moon (USA) - Theaterpack (D) - Thy Antichrist (CO) - Tilo Augsten (D) - Trio Viz-à-Vis (D) - UK Decay (GB) - Unassisted Fold (D) - Unto Ashes (USA) feat. MICHAEL POPP (QNTAL, ESTAMPIE) - Urze De Lume (F) - Velvet Acid Christ (USA) - Void Vision (USA) - Vowws (AUS) - Waldträne (D) - Welicoruss (RUS) - Welle:Erdball (D) - White Lies (GB) - Winterkälte (D) - Witt (D) - Wolfheart (FIN) - X-RX (D) - Xentrifuge (USA) - XIV Dark Centuries (D) - Yotam Baruch (ISR) - Ÿurod (RUS) - Zweite Jugend (D)
For more information on the confirmed artists, there is a list of their official webpages here: http://www.wave-gotik-treffen.de/english/bands.php. On the WGT website, a newsletter quickly informs you about the latest program updates.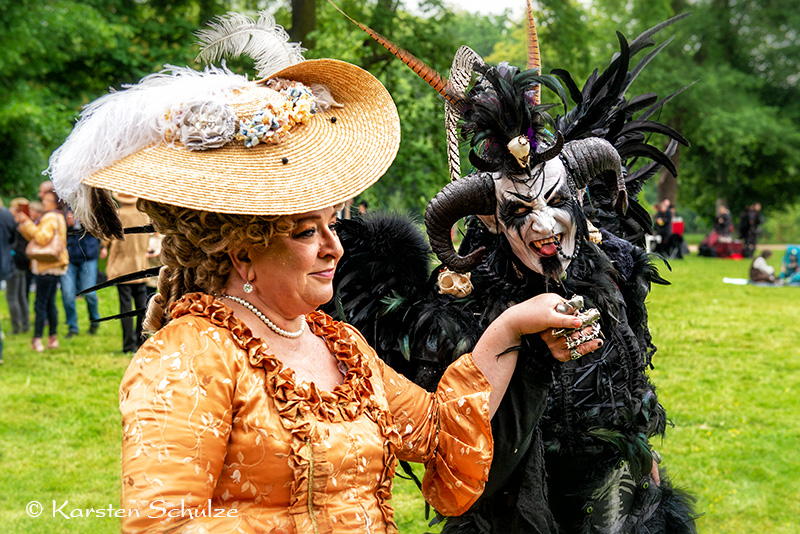 Tickets

Event Ticket

4-days tickets for all events during the 28th Wave Gotik Treffen 2018 are available for 130 EUR on pre-sale (incl. pre-sale charges). The Treffen-Event-Ticket includes the free usage of all public transport within Zone 110 of the MDV (Mitteldeutscher Verkehrverbund), this includes all trams, buses and S-Bahn lines except special lines e.g. sightseeing tours). Detailed information (e.g. period of validity) is to be found on the reverse side of the ticket.
Parking Vignette

In order to use the parking places on the Treffen Area, a parking vignette for 15 EUR (incl. pre-sale charges) for the whole time of the festival is necessary. Important! Without a vignette you're not allowed to park at the area.
Camping

Possible with "Obsorge Ticket", limited up to 9,999 tickets for 25 Euro (includes advance sale charges), contains the following service-package: Camping at the Treffen-Campground (agra-fairground)
Important!: Without an "Obsorge Ticket" the entering and the use of the camping grounds is not possible. The "Obsorge ticket" is only valid in combination with an event ticket and has to be bought for each person separately.
You can order your tickets here:
http://www.wave-gotik-treffen.de/karten.php (Germany)
http://www.wave-gotik-treffen.de/english/karten.php (foreign countries)
Official WGT program book "Pfingstbote"

The book will be available for a price of 15 EUR both at the box offices and the central WGT merchandise stall at the Agra market hall.
Additional festival information

Further information will follow soon and are always available at http://www.wave-gotik-treffen.de/english/
WGT on Facebook: https://www.facebook.com/WaveGotikTreffen/
Event on Facebook: https://www.facebook.com/events/1786240341444048/
Location

Leipzig, eastern Germany (at about 50 venues, spread all over the city); camping site and main venue at the edge of town at the "Agra-Messepark" Markkleeberg; for information on the city you may check http://en.wikipedia.org/wiki/Leipzig or the official city website http://www.leipzig.de/int/en; overview of where events will take place: http://www.Wave-Gotik-Treffen.de/english/info/orte.php.
Music styles

All kinds of dark music: Gothic; EBM; Industrial; Ambient; Neofolk; Synth-pop, Goth-Metal etc.
Expected number of visitors

About 20,000
Info line

0049-341-2120862 / Email:
This email address is being protected from spambots. You need JavaScript enabled to view it.
WGT-app

The useful and free app WGT-Guide can be downloaded in the app stores of Google Play, iTunes or Amazon.
"Low emission zone" in Leipzig

Since March 2011 about 60 percent of the urban area of Leipzig has been declared a "low emission zone" to protect the environment from air pollution. Therefore, within this zone only vehicles which have an official green sticker placed on the front windscreen are allowed. To obtain such a sticker, the vehicle must meet certain standards (i.e. age, type of fuel, diesel particulate filter etc.). This regulation is also valid for foreigners who travel to Leipzig by car. If you cannot show a valid sticker during a traffic check, you will have to pay a fine of 80 euros. The stickers are available for about 5 euros at most car repair shops in Germany or via internet, e.g. the website of TÜV-Nord (6 euros): https://www.tuev-nord.de/en/private/traffic/car-motorcycle-caravan/emissions-sticker/order/. ATTENTION: The agra-area with parking lot and camping site can be reached via A38 / B2 without having to enter the "low emission zone"! That means it is possible for visitors to park their vehicle at the agra-parking lot (you will need a WGT parking ticket in this case, which can also be obtained on location) and reach all other locations by public transport. Please use the following links to find more information: https://www.tuev-nord.de/de/privatkunden/verkehr/auto-motorrad-caravan/umweltplakette / http://www.leipzig.de/umwelt-und-verkehr/luft-und-laerm/umweltzone / www.lowemissionzones.eu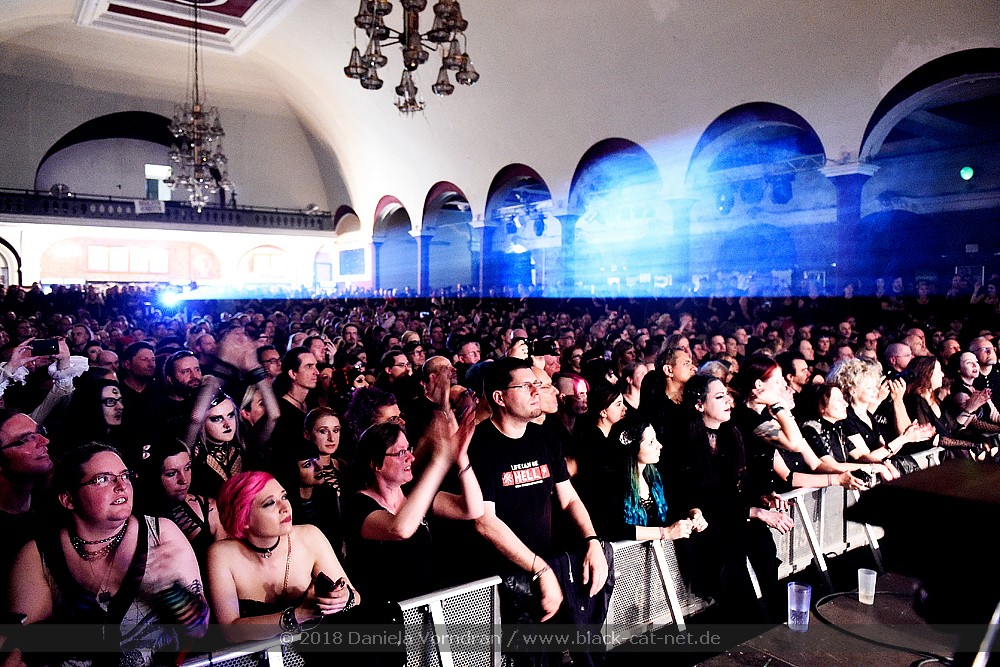 WGT special tips

Apart from famous bands of the scene, the coming WGT program will again include several hidden treasures whose names are maybe not known to everybody, but which will surely perform outstanding concerts. So before visiting the WGT, it's worthwhile to take a closer look into the program and to listen to some sample tracks of the artists you don't know. Here are some hints on a few less known, yet interesting bands and artists which will play at the WGT 2019:
A Slice Of Life - Wave, Postpunk | Belgium - https://www.youtube.com/watch?v=GsrTfJgLSAk

Young Belgian band that released their debut album 'Restless' last year, likely to thrill fans of THE CURE, THE SISTERS or CLAN OF XYMOX.
And The Golden Choir - Indie | Germany - https://www.youtube.com/watch?v=p0yR4mH8Mhk

Musician and producer Tobias Siebert (well known to some for his band KLEZ.E, who released their CURE homage album 'Desintegration' in 2016 and also performed at the WGT) is back this year with his solo project. While his early tours featured "background music" completely recorded by himself and then pressed onto records, he now has a complete band with him who perform his opulent, sensitive Indie Pop live.
Autumn - Gothic Rock | USA - https://www.youtube.com/watch?v=y17Uan4Ks8I

They belong to the mostly undiscovered pearls of nineties Goth Rock, who never achieved the popularity of bands like FAITH & THE MUSE and their cohorts. Their 1996 debut 'The Hating Tree' was produced by William Faith. After 2000 there was silence, but suddenly last year a new sign of life appeared in the form of the album 'Chandelier' and in 2019 they finally make it across the pond to the WGT.
Bragolin - Wave, Postpunk | Netherlands - https://www.youtube.com/watch?v=8EJM2rGAB6I

The first album of this new project by Edwin van der Velde (ZWARTE POËZIE) was released in 2018. Those who can listen to their current hit 'Into These Woods' without running directly onto the dance floor (or at least inevitably bouncing their feet), should probably get their hearing checked.
Christine Owman - Indie,Chamber-Pop | Sweden -
https://www.youtube.com/watch?v=WQBAHkLX_NA
CHRISTINE OWMAN is a real insider tip. Without any effort she manages to pull the defenceless listener with her eerily beautiful songs into an almost lightless emotional deep sea. Tying to the mast or putting wax into the ears is useless, there is no escape from the attraction of this siren. If you are into this kind of music and like artists like EVI VINE, CHELSEA WOLFE or ANNA VON HAUSSWOLFF, you will most likely get hopelessly addicted to her. Even though her collaborator Mark Lanegan (SCREAMING TREES, QUEENS OF THE STONE AGE) will certainly not be present at the concert, a magical sound journey is guaranteed.
Cold Showers - Wave, Postpunk | USA - https://www.youtube.com/watch?v=V43V0_lrAe0

Founded in California in 2010, their two previous albums 'Love And Regret' and 'Matter Of Choice' were completely satisfying. Recommended for fans of SOFT KILL or COLD CAVE.
Creux Lies - Wave, Postpunk | USA - https://www.youtube.com/watch?v=RGK02a3pH54

The next very young band in this booming genre, who caused a furore with their debut album 2018.
Darkher - Indie, Post-Rock, Doom-Metal | Geat Britain - https://www.youtube.com/watch?v=ugVRpDzl6Bs

The sluggish doom chokes off the air with a deep black cloth until you have finally left the pain of reality behind you. Sound-wise close to CHELSEA WOLFE.
Dear Deer - Electro-Punk, No-Wave | France - https://www.youtube.com/watch?v=ABXS96v7aGE

The sympathetic Frenchmen Federico Iovino (POPOI SDIOH) and Sabatel (CHESHIRE CAT, GUERRE FROIDE) celebrate a jagged, weird and absolutely danceable mix of loud guitars and electro beats with plenty of energy and glitter , but still rough and sexy. A feel good live show.
Geometric Vision - Wave, Postpunk | Italy - https://www.youtube.com/watch?v=v8G4O8rgM4I

Founded in Naples in 2012, they released their third album last year and are now performing at the WGT for the first time. Highly recommended for fans of their label mates ASH CODE.
In2TheSound - Wave, Postpunk | Germany / Great Britain -
https://www.youtube.com/watch?v=cUZiAbSA-7o

The British Post-Punk band THE SOUND unfortunately never made an appearance at the WGT, because it dissolved in 1988. A reunion was also impossible, because singer and band head Adrian Borland took his own life in 1999 due to severe depression. They're among the big cult bands of the genre, with songs like 'Winning' or 'New Dark Age' a must for any serious party. In order to bring their unforgettable "sound" on stage, their friends from THE CONVENT and THE SOUND's original drummer, Mike Dudley, have created a new project with IN2THESOUND and pay tribute to the heroes.
Jonathan Bree - Indie, Chamber-Pop | New Zealand - https://www.youtube.com/watch?v=gxRq23qVE8A

Almost 10 million people have already seen the weird, beautiful, sick video for the song 'You're So Cool' on YouTube. Live the whole thing looks the same, complete with stocking masks and wigs. And it sounds excellent. Not super Goth, but it's still "so cool" to have them with us.
Jungstötter - Indie, Chamber-Pop | Germany - https://www.youtube.com/watch?v=Gk2oSKUOzXg

Indie fans may be familiar with Fabian Altstötter from his successful band SIZARR. He has now released his first solo LP this year as JUNGSTÖTTER, which is miles away from SIZARR in terms of sound. The first associations conjure up SCOTT WALKER or ANTHONY at the bar long after midnight indulging in a last whisky with NICK CAVE. Demanding, deeply melancholic and quite unique. Absolute tip for stylistically open music lovers with a tendency toward depression.
Karies - (Post-)Punk, Alternative | Germany - https://www.youtube.com/watch?v=twjvZf7m6JI

Another exciting young band from Germany, founded 2012 in Stuttgart. With their debut 'Seid umschlungen, Millionen' they won some prizes and went on tour with TURBOSTAAT and the SLEAFORD MODS. You can expect morbid, grouchy (post-)Punk and bulky noise-rock with German lyrics about dehumanization and world-weariness. Recommended for fans of SONIC YOUTH or DIE NERVEN.
Kellermensch - Indie, Progressive Rock, Art-Metal | Denmark -
https://www.youtube.com/watch?v=XJWjoOxg2F8
Their name may sound like a German cliché scene band, but that is misleading. The Danes, who were inspired by Dostojewski's 'Notes from the Underground' (German: "Aufzeichnungen aus dem Kellerloch"), are stylistically rather close to the first albums of ARCADE FIRE, with a more "metallic" note perhaps. Surely one of the most exciting bands this year, their live clips promise a pretty intense experience.
Kontravoid - Synth Wave | Canada - https://www.youtube.com/watch?v=oeOEue2yQW4

After leaving the Synth Pop band PARALLELS, Cameron Findlay started to release his own material under the name KONTRAVOID and has since been on the road with bands like BOY HARSHER, DRAB MAJESTY, ZANIAS and SCHWEFELGELB. If you're into these bands, this gig is for you.
Light Asylum - Synth Wave | USA - https://vimeo.com/18846203

Her hit 'Dark Allies' runs every week in every club, finally SHANNON FUNCHESS comes to WGT, and it's high time. The live performance is one of the most energetic stage shows possible. Her stage presence and her organ are stunning and sweat-inducing, one hour of ecstatic dancing guaranteed. Mandatory event!
Meta Meat - Industrial, Performance Art | France - https://www.youtube.com/watch?v=D0I1uiqVKRw

Hugues Vilette and Phil Von might already be known to some lovers of electronic sounds through their participation in the experimental "Electro Flamenco" project VON MAGNET (founded in 1985). 2016 saw the release of the first album of their current project, which is largely based on hypnotic tribal rhythms created by Phil Von on stage, including flamenco dance on a Cajon. An exciting and not quite everyday sight these days in a genre where the concerts are otherwise dominated by open laptops.
October Burns Black - Gothic Rock | Great Britain - https://www.youtube.com/watch?v=gGaNAgMXNgk

The brand new all-star band consisting of James Tramel (THE WAKE), Ger Egan (THIS BURNING EFFIGY), Lars Kappeler (SWEET ERMENGARDE), Tommy Olsson (THEATRE OF TRAGEDY) and Simon Rippin (NFD) celebrates pure classic Goth Rock, which is painfully missed these days.
Pleasure Symbols - Synth Wave | Australia - https://www.youtube.com/watch?v=ZAGGbuW9RUU

Frozen rhythms, echoed voices, drifting guitars - let yourself collapse and dream. File next to CHROMATICS, MINUIT MACHINE and BOX AND THE TWINS.
Sad Lovers & Giants - Wave | Great Britain - https://www.youtube.com/watch?v=Zg5tBerJEfM

Actually an absolute cult band, but they're so sparse and stingy with releases that it seems advisable to mention them - especially for younger audiences. Hits like 'Things We Never Did' or '50:50' are still played at every party, but many are certainly not aware of who is behind these hits.
Sally Dige - Synth Wave | Denmark - https://www.youtube.com/watch?v=HQIGbuRjQk4

In 2016 she was already a guest at the WGT with her band CULT CLUB, now she comes back as a solo artist. Finest eighties synth wave for dancing and dreaming.
Still Corners - Indie, Dreampop | Great Britain - https://www.youtube.com/watch?v=V5YOhcAof8I

STILL CORNERS play heart-breaking Dreampop with an eighties touch, comparable to bands like BEACH HOUSE, WILD NOTHING or THE CHROMATICS. If you look at the play count on their YouTube clips, which are over 33 million, they shouldn't be an "insider tip" anymore. Nevertheless, here's the hint to the edge of the gothic plate and beyond.
Tamaryn - Indie, Dreampop | New Zeeland - https://www.youtube.com/watch?v=2C3YNBKSzgo

MY BLOODY VALENTINE meets SIOUXSIE & THE BANSHEES und BEACH HOUSE. Dreampop meets Shoegaze and a bit of Retro-Synth Pop.
Vowws - Postpunk, Deathpop | Australia - https://www.youtube.com/watch?v=upmdIiroDPQ

The Australians, who already worked together with greats like GARY NUMAN and musicians from SWANS during their early career, aptly call their music "Deathpop". They will find fans among people who are into other current bands like RITUAL HOWLS, ACTORS or BOOTBLACKS.
Void Vision - Synth Wave | USA - https://www.youtube.com/watch?v=dBeNbHLvdC4

Singer and composer Shari Vari from Philadelphia is behind this one-woman project, which originally started as a duo with Hayden Payne (PHASE FATALE). Her songs appeal to fans of the genre who are enthusiastic about HANTE, XENO & OAKLANDER or MARTIAL CANTEREL.