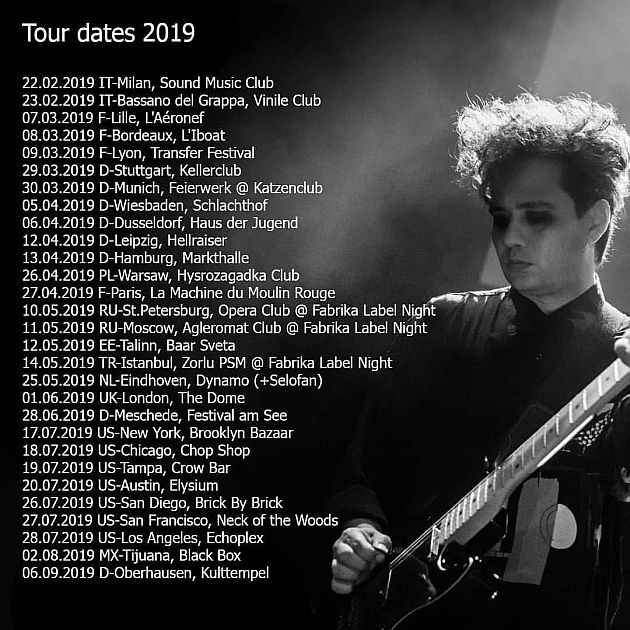 Markthalle, Hamburg, Germany
13th April 2019
She Past Away - "Tour 2019" - Special Guest: On The Floor

SHE PAST AWAY was founded in 2009 and is an outstanding band with the combination of New Dark Wave and Old-school Post Punk music combined with Turkish lyrics. With the release of 'Belirdi Gece' in 2012 the band's popularity rose significantly. The second album 'Narin Yalnızlık' followed in 2015.
The band's success in combining minimalistic Turkish poetry lyrics and Post Punk sounds is immense. In spring 2019 SHE PAST AWAY tour 20 different places in 9 different European countries just to continue the tour with eight more gigs in the US and Mexico. Volkan Caner und Doruk Ozturkcan show the underground music world what it means to be unique and have huge success with it.
ON THE FLOOR are supporting on that night and are a German Gothic band with a long history. The first EP, 'Waiting For the Summer', was released back in 1999, other albums followed and the rumours are telling that the band is back in the studio again.
Additional Concert Info

Doors: 20:00
Start: 21:00
Tickets: from 22.60 € (+ charges/shipping) via
Eventim
Info: https://www.facebook.com/events/2187116394945732/
Artist: https://www.facebook.com/shepastaway / https://shepastaway.org
More on
She Past Away
&
On The Floor