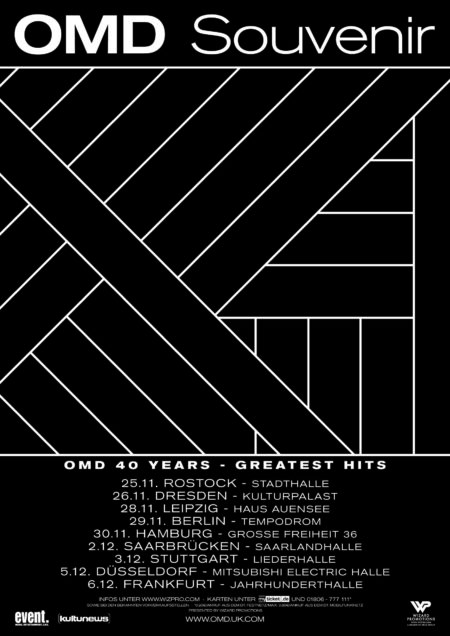 British Pop pioneers celebrate 40th anniversary with world tour! Nine shows confirmed in November / December 2019 in Germany! Tickets available from Thursday, March 14, 2019
OMD (short for ORCHESTRAL MANEUVERS IN THE DARK) celebrate their 40th anniversary with the announcement of a special world tour. Both, Martin Cooper and Stuart Kershaw, will accompany the band on tour, starting in Portugal in October and ending in February 2020. In Germany, the band can be experienced live in the following dates:
25 Nov 2019 - Rostock / Stadthalle
26 Nov 2019 - Dresden / Kulturpalast
28 Nov 2019 - Leipzig / Auensee
29 Nov 2019 - Berlin / Tempodrom
30 Nov 2019 - Hamburg / Grosse Freiheit
02 Dec 2019 - Saarbrucken / Saarlandhalle
03 Dec 2019 - Stuttgart / Liederhalle
05 Dec 2019 - Dusseldorf / Mitsubishi Electric Halle
06 Dec 2019 - Frankfurt / Jahrhunderthalle
General presale starts on Thursday, March 14, 2019. Tickets are available at www.myticket.de as well as by phone at +49 (0) 1806 - 777 111 (20 Ct./Call - mobile prices max 60 Ct./Call) and at the usual well-known ticket agencies, such as
EVENTIM
.
This announcement is another exciting addition to the band's 40th anniversary celebrations; first with the re-release of their first four classic albums by Miles Showell in the Abbey Road Studios featuring half speed mastering, on 180g vinyl and featuring the original cult cover designed by the legendary Peter Saville. "Electronic music is our language," says Andy McCluskey. "In this way we understand each other." "We're at our best when we're all in one room and working together," adds Paul Humphreys. "Then the sparks fly and ideas emerge. That's exactly how it has always been."
The band was founded in 1978 by friends Andy McCluskey and Paul Humphrey as a teenager. They quickly became electric pioneers with a series of hit albums released during the 1980s, eventually selling more than 25 million singles and 15 million albums throughout their careers, establishing themselves as precursors of electronic synthesizers and one of the UK's most popular Pop groups.
Last year in October, OMD also gave two critically acclaimed concerts at the Liverpool Philharmonic Hall with the Royal Liverpool Philharmonic Orchestra. Both shows were sold out and included orchestral versions of many of the biggest OMD hits. The Times gave the performance four stars and described them as "perfectly matched with the orchestra and a confirmation that OMD does not compromise." It was also mentioned that the band "rejected any existing Rock'n'Roll clichés and that Philharmonic Hall was their spiritual home." The show coincided with the anniversary of OMD's first ever appearance in October 1978 at Eric's legendary Liverpool club.
As part of the celebrations, a special 40th anniversary book was created - a must for all fans - to tell the story of OMD from its beginnings as a garage band to its latest sold-out tours. It contains memories of band members, other music artists influenced by them, famous admirers and loyal fans. In addition, later this year, an ultimate singles collection will also be released.
More information at: www.omduk.com / www.sonymusic.de
To secure tickets visit: https://wizpro.com/omd/2019/40-years-greatest-hits-2019/
More on
OMD