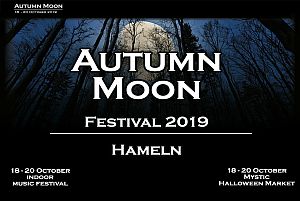 Rattenfängerhalle and more venues, Hameln, Germany
18th - 20th October 2019
Autumn Moon Festival 2019 with Coma Alliance, Das Ich, Irfan, Goethes Erben, Heilung, Frozen Plasma, Merciful Nuns, Vlad In Tears, Pink Turns Blue and many more

The cosy and magical AUTUMN MOON Festival in Hameln is celebrating its first small anniversary as it is the 5th time that dark music lovers from all over Germany and beyond are following the calls in the Golden month of October, just when the Darkness is taking over for the next months. The success of this small, yet very special festival is great, which is a result of a creative line-up mix, a colourful and mystic program beyond concerts that is filled with workshops, readings, art, fire shows and the Mystic Halloween Market. Also AUTUMN MOON is famous for giving all of the bands extended time slots and so to make it possible for the fans to enjoy their favourite bands longer and for the artists to show their full potential and create a unique atmosphere. There will be more than 40 bands this year and the line-up is already more than extraordinaire!


Mystic Halloween Market

The outdoor area of the Autumn Moon is dominated by the Mystic Halloween market and offers, in addition to the elaborate buildings and backdrops, a large selection of delicious food & non-food and dealer stands. Between the stalls, incredible actions and interactions will keep you in the best of moods. Let the Mystic Halloween Market enchant you. Admission to the Mystic Halloween Market is free to everybody with or without a festival wristband. Music fans will meet here lovers of the dark ages, fantasy fans, Halloween freaks, the friendly locals and tourists from all over the world - a meeting point for everyone no matter of style, music taste or age!


The Venues

Rattenfängerhalle
The Rattenfängerhalle is the main stage of the festival. It is the largest stage of the festival and offers 2.155 m² space for over 2,600 people. You can expect a varied program with nationally and internationally known names. Sophisticated lighting and design make the gigs at the Rattenfängerhalle a unique experience.

Boat-Stage
A very special venue is offered on the "Hameln": maritime flair and best shows on a small scale. With only 200 people seated in the ship's salon, the most intimate concerts of the festival will take place here. The "Holzminden" will rock you with the best musical accompaniment for breakfast on the Weser.

Outdoor-Stages
The outdoor stages are located on the Mystic Halloween Market and offer visitors exciting readings, shows and workshops. Even music concerts will await you in the fresh air and starry sky.

Sumpfblume
There is nothing closer than the Sumpfblume, as the cultural institution in Hameln for over 30 years, which has always been a platform for the genres from this festival, to be one of the four venues. With room for up to 700 fans and a cafe offering regional fare, the Sumpfblume for Autumn Moon offers plenty of options that can be implemented here.

Moon-Stage
This stage was new in 2018. The Moon Stage is located next to the hall in a heated tent and has room for about 350 visitors.


Line-up per 8th April 2019 in alphabetical order

Alcest, Burn, C-lekktor, Cellar Darling, Coma Alliance, Corlyx, Cygnosic, Dark Side Eons, Das Ich, EmBRUN, Forgotten North, Frozen Plasma, Girls Under Glass(80`s Set), God Module, Goethes Erben, Heilung, Illuminate, Irfan, Kowalski, Krayenzeit, Merciful Nuns (last show ever), Microclocks, Nachtmahr, Nachtsucher, Night Nail, Omnimar, Patient,Patient, Pink turns blue, Priest, Project Pitchfork, QFT, Rome, Rroyce, Siva Six, Snow White Blood, Solitary Experiments, Sólstafir, The Banished Privaters, The Dark, The Mescaline Babies, The Shiver, Unzucht, V2A, Vlad In Tears, W & The Void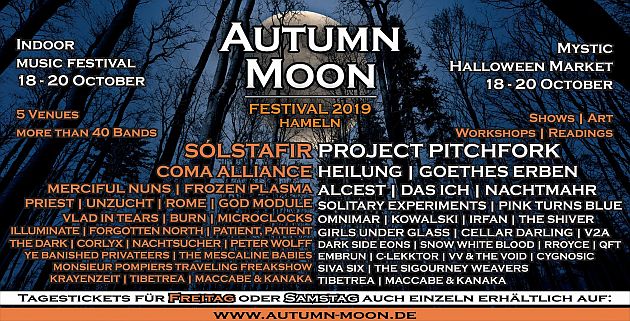 Tickets

Festival ticket without camping: 78€
Festival ticket with camping: 122€
Festival ticket incl. festival t-shirt from 2018: 98€
Festival ticket incl. hoodie: 122€
1-night camping ticket: 22€
Get your tickets via Eventim or http://pec-tickets.de/


For more info check-out: http://www.autumn-moon.de