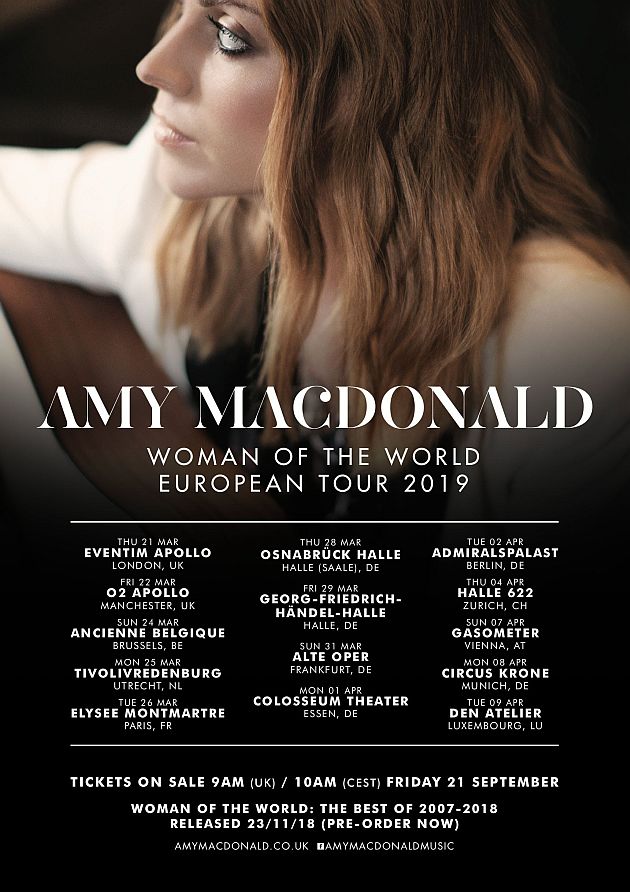 Den Atelier, Luxembourg City, Luxembourg
9th April 2019
Amy Macdonald + Special Guest: Rosborough

The fact that AMY MACDONALD is a live-sensation was already proven by the Scottish artist during an acoustic session as part of the legendary WDR2 radio concert in Düsseldorf, a highly exclusive unplugged performance, for which only 600 enviable and then happy winners were able to get tickets. November saw the release of the artist's first best-of album, 'Woman Of The World: The Best Of 2007-2018', which focuses on her big hits. Above all of course 'This Is The Life', 'Mr. Rock & Roll' and 'Don't Tell Me That's Over'.
Since AMY MACDONALD stepped into the limelight with 'This Is The Life' and the record of the same name in 2007, she has been a world star with over 13,000,000 records sold. Each of her albums has won several platinum awards. In total there are more than 30 such awards hanging on her wall - and several golden records on top of that. With her last studio album, she landed on No. 2 in the British and German album charts, in Switzerland she even landed on No. 1. The folky and loosely light melodies together with the catchy lyrics, which never lose touch with everyday reality, have made her one of her secret recipes.
This unaffected and open manner also distinguishes her great and unique live shows. The only 32-year-old still fills halls and has proven at this year's festival tour that she is a great singer and a fantastic songwriter who moves the hearts of her fans especially during her live shows. Last year Amy Macdonald has confirmed that she will be back with her presence and will perform in exclusive concert halls.
An intimate gig of a world class star! Definitely a not to be missed live-gem!
Additional Concert Info

Doors: 19:00
Start: 20:00
Tickets: SOLD OUT
Facebook Event: https://www.facebook.com/events/236864660338782/
More on
Amy Macdonald
&
Rosborough