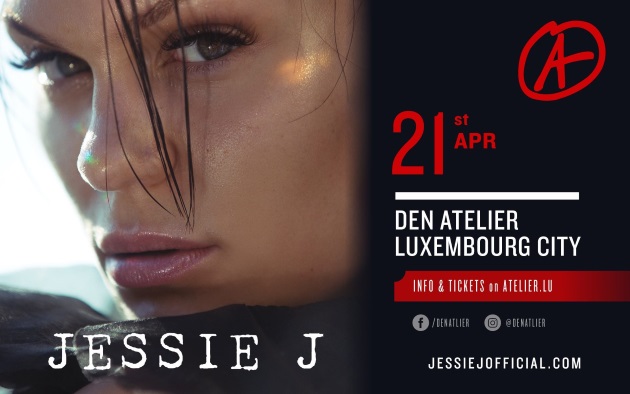 Den Atelier, Luxembourg City, Luxembourg
21st April 2019
Jessie J

"I'm nearly 30, I'm not happy, I don't enjoy this anymore. It was like the emotion was caught in my throat. I just want to keep it suffocated, I didn't want to let it out. I couldn't differentiate between the business and the art. What I wanted to give up was the business and forgot that the art could save me in all of it."
That is the confession of JESSIE J - the multiplatinum-selling artist behind hits like 'Price Tag,' 'Domino' and 'Bang Bang' - who was at a major crossroads after 2014's 'Sweet Talker'. And then, a song came to the rescue. A producer named DJ Camper played her the beat for what would become 'Think About That,' a moody, meditation-type groove and a clear departure from her past two albums.
Six years after dropping her platinum-selling debut 'Who You Are' - and winning the prestigious Critics' Choice prize at the BRIT Awards - London-born JESSIE J was readying her confessional new album 'R.O.S.E.', released in early 2018. The title is an acronym for realizations, obsessions, sex and empowerment - all topics that will be explored in song. But the meaning behind that title goes even deeper.
With DJ Camper (Nicki Minaj, Mary J. Blige and Mariah Carey) producing, JESSIE J wrote the entire album herself, making this her most personal statement ever. Other standouts include 'Not My Ex' - whose stripped-down soul puts Jessie's dynamic voice right up front - and the empowering anthem 'Queen', which kicks some positivity on loving the body and skin you're in. Now Managed by the Madden Brothers (of Good Charlotte) and their Company MDDN - JESSIE J is back and stronger than ever.
"Benj and Joel are my brothers. They nurtured Jessica before Jessie J could even be in existence again. You have to find your people that go forth in life pursuing what you feel is important. I never had that with the people I worked with in the past. It was always about business. I gave someone my magic and they didn't look after it, but I got it back."
Additional Concert Info

Doors: 19:00
Start: 20:00
Tickets: SOLD OUT
Facebook Event: https://www.facebook.com/events/316921438933053/
More on
Jessie J