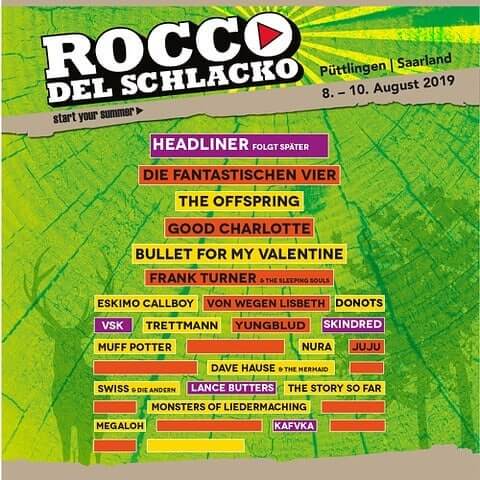 Sauwasen, Püttlingen, Germany
8th to 10th August 2019
Rocko del Schlacko 2019 with Die Fantastischen Vier, Good Charlotte, Verbales Stylekollektiv, Eskimo Callboy, Von Wegen Lisbeth, Donots, The Offspring, Bullet for My Valentine, Frank Turner & The Sleeping Souls and many more

In the contemplative Püttlingen, the madness comes back for three days! 24,000 metal- and part heads reunite in Sauwasen. Here big figures from Rock, Pop and Independent genre meet again to bring the biggest party to the people in Saarland. The Sauwasen has already experienced a lot: The DONOTS started dust rockets, the place trembled to the music of BILLY TALENT, RISE AGAINST, BEATSTEAKS, SPORTFREUNDE STILLER, MARTERIA, MANDO DIAO, THE HIVES and many, many more made the visitors celebrate. Every year in the middle of August, the highways are filled with people that have one common goal: Dance to the best music, see their favourites on stage and just have a great time in summer! Probably the best weekend in the warmest month.
The festival starts on Thursday with one of the most famous bands in Germany: DIE FANTASTISCHEN VIER, also known as FANTA 4! There's no one like them. DIE FANTASTISCHEN VIER composed by Smudo, Michael Beck, Thomas D and Andreas Rieke, are the unbreakable pioneers of German Sprechgesang. In 2018, 29 years after their debut, they came up with a new album on "Captain Fantastic Tour". After a quarter of a century they brought nine studio albums and big hits like 'Sie ist weg', 'MFG', 'Troy', 'Ernten was wir säen' or '25'. Gold and platinum records, Echo awards, 1Live Krone, Viva Comet, the Paul Lincke Ring, the Golden Camera, GQ Men of the Year - these are just a few of the awards that these legends have won through their career!
On Friday VON WEGEN LISBETH are the actual headline for that day! They are a German indie pop band from Berlin that was founded in 2006 under the name FLUCHTWEG. During that time they've changed their name to HARRY HURTIG. The group sings in German, a special feature is their use of unusual musical instruments such as a children's glockenspiel. VON WEGEN LISBETH made their breakthrough in 2016 with their album 'Grande'.
On Saturday the legendary American rock band THE OFFSPRING make their appearance. THE OFFSPRING's metal-inflected punk became a popular sensation in 1994, selling over four million albums on an independent record label. While the group's credentials and approach follow the indie rock tradition of the 80s, sonically THE OFFSPRING sound more like an edgy, hard-driving heavy metal band, with their precise, pulsing power chords and Dexter Holland's flat vocals. While touring for their latest effort, THE OFFSPRING set to work writing new material and recording when they could. After three years of work, their ninth album, 'Days Go By', arrived in the summer of 2012.
This festivals promises to be yet again another highlight for the summer with appearances from BULLET FOR MY VALENTINE, DONOTS, FRANK TURNER & THE SLEEPING SOULS, GOOD CHARLOTTE, JUJU and many, many more!
Line-up

Thursday: Die Fantastischen Vier, Good Charlotte, Verbales Stylekollektiv, Eskimo Callboy, Juju, Swiss & Die Andern, The Story So Far, Monsters of Liedermaching
Friday: Headliner will be announced later, Von Wegen Lisbeth, Donots, Skindred, Muff Potter, Dave Hause & The Mermaid, Megaloh,
Saturday: The Offspring, Bullet for My Valentine, Frank Turner & The Sleeping Souls, Trettmann, Yungblud, Moop Mama, Nura, Lance Butters, Kafvka, Kaputto & Concorde
Additional Festival Information

Tickets: https://tickets.rocco-del-schlacko.de
Facebook Event: https://www.facebook.com/events/1720987718013901/
More on: /https://www.rocco-del-schlacko.de/