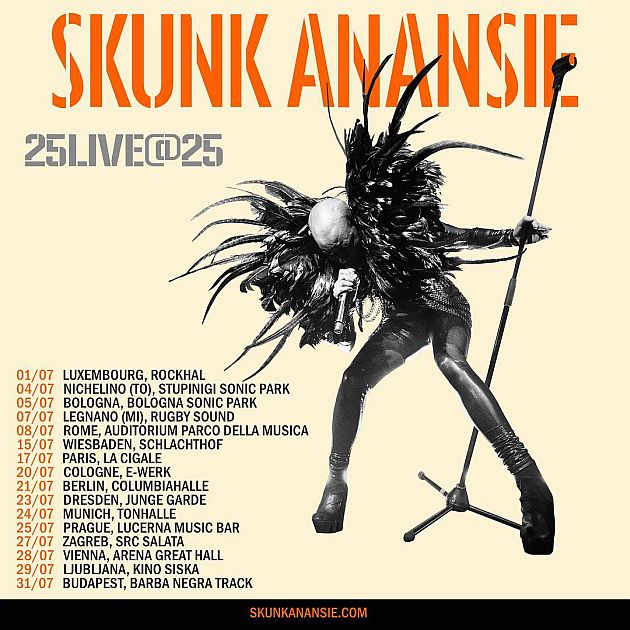 Rockhal, Esch sur Alzette, Luxembourg
1st July 2019
Skunk Anansie

British alternative quartet SKUNK ANANSIE played what their lead singer, Skin, called Clit-Rock - an amalgam of Heavy Metal and black feminist rage. Skin began singing in high school for a classmate's band after considering the offer for over a year. Six years after that band broke up, the members of SKUNK ANANSIE (including bass player Cass, guitarist Ace, and drummer Robbie France, who was replaced by Mark Richardson in 1995) met one another by chance. Their name was taken from the West Indian folktales of 'Anansi the Spider-Man', with a slight change of spelling and "Skunk" added to make the name nastier.
The group played its first gig at London's Splash club in March 1994, subsequently taking six weeks to record its debut album, 'Paranoid and Sunburnt', at a "haunted house" outside the city. The band's first single, 'Selling Jesus', was featured on the soundtrack of the film 'Strange Days'; 'Stoosh' followed in 1996, and three years later SKUNK ANANSIE returned with 'Post Orgasmic Chill'. They broke up in 2001, with Skin moving on to a solo career (releasing 'Fleshwounds' in 2003 and 'Fake Chemical State' in 2006). The group re-formed in early 2009, playing sold-out shows and recording three new tracks for a greatest-hits album, 'Smashes & Trashes'. The reunion went so well that they decided to stick together and record a new album, 'Wonderlust', released in the autumn of 2010. The track 'You Saved Me' from the album was used in Zack Snyder's 2011 movie 'Sucker Punch', as well as their remix of BJÖRK's 'Army of Me'.
Sadly, former drummer Robbie France passed away in January 2011 of a ruptured aorta. The band released its fifth album, 'Black Traffic', in September 2012 and backed it with an extensive European tour. The first single from the album was 'Sad, Sad, Sad'. The group followed this up with the live album 'An Acoustic SKUNK ANANSIE: Live in London', a recording of their performance at Cadogan Hall, London in April 2013, before their sixth studio effort, 'Anarchytecture', arrived in 2016. The following year, the band put out '25live@25' - a compilation album that traversed 25 years of live material.
Additional Concert Info

Doors: 19:00
Start: 20:00
Information & Tickets: https://www.rockhal.lu/events-tickets/rock-pop/show/detail/skunk-anansie-4/
Facebook Event: https://www.facebook.com/events/253331845591142/
More on
Skunk Anansie