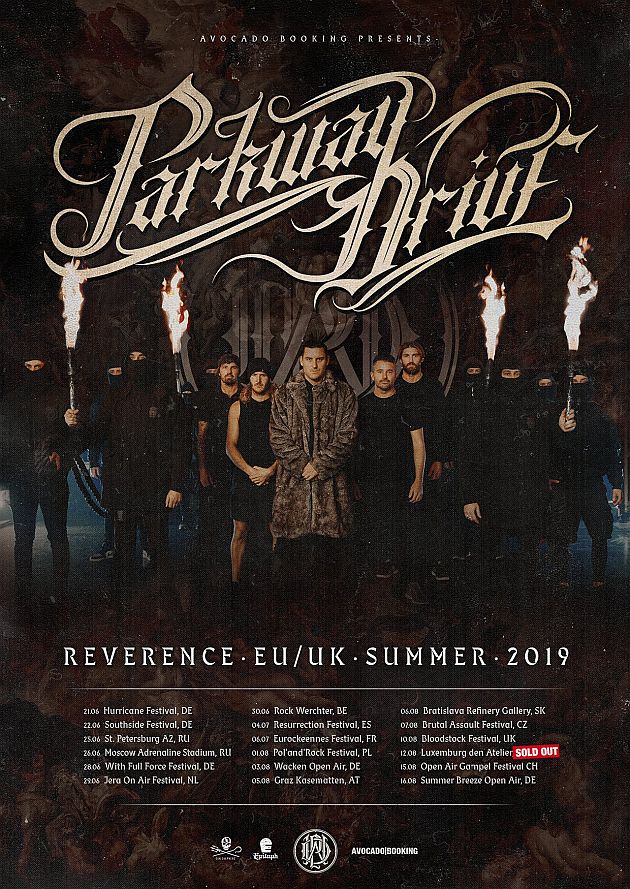 Den Atelier, Luxembourg City, Luxembourg
12th August 2019
Parkway Drive, Bury Tomorrow, Venom Prison

'Reverence' arrives as the follow-up to 2015's 'Ire' - PARKWAY DRIVE's most hugely successful album to date and a major force in boosting their ever-growing worldwide following. Like each album released since the band formed in 2002, 'Ire' has been certified gold in their homeland; it also helped fuel their recent dominance at European festivals and won critical praise from outlets like Kerrang! (who hailed Ire as a "fascinating album"). But while 'Ire' brought PARKWAY DRIVE's uncompromising artistry to bold new levels, 'Reverence' pushes their creative ambition even further.
Not only PARKWAY DRIVE's most sonically adventurous album so far, 'Reverence' is also their most personal. With its barrage of heart-shredding anthems, the album was closely informed by a series of tragedies the band's endured over the past few years, including the untimely loss of two loved ones. "We realized how short and fragile life could be," says McCall. "We took stock of what we had and realized what actually mattered. What we went through was horrendous."
Known for their unstoppable live show - as showcased in releases like the platinum-selling 'Home Is For The Heartless' DVD - PARKWAY DRIVE will spend most of the coming year on the road. After touring the U.S. last spring, they headed to Europe/ UK to headline several major festivals, taking on a massive stage production that includes a spinning drum room and stunning pyrotechnics. The band then returned to the states for their biggest U.S. tour yet, a run followed by their mid-autumn tour of Australia. Early this year, PARKWAY DRIVE again brought their awe-inspiring show to Europe/ UK and - in a significant step forward for the band - hit arenas all across the continent.
In reflecting on the making of 'Reverence', PARKWAY DRIVE point out that using heartbreak as creative fuel has ultimately had a life-changing impact on the band. "This time there are triumphs that come from swinging a sledgehammer and dealing with real raw emotion," says McCall. "I hope 'Reverence' is the kind of album that redefines what people expect of us, in the sense that you can now expect the unexpected. This time around we've taken more risks, and I don't think we've ever sounded more interesting."
Additional Concert Info

Doors: 19:00
Start: 20:00
Tickets: SOLD OUT
Info: https://www.atelier.lu/Upcoming-Shows/Parkway-Drive
More on
Parkway Drive
,
Bury Tomorrow
,
Venom Prison