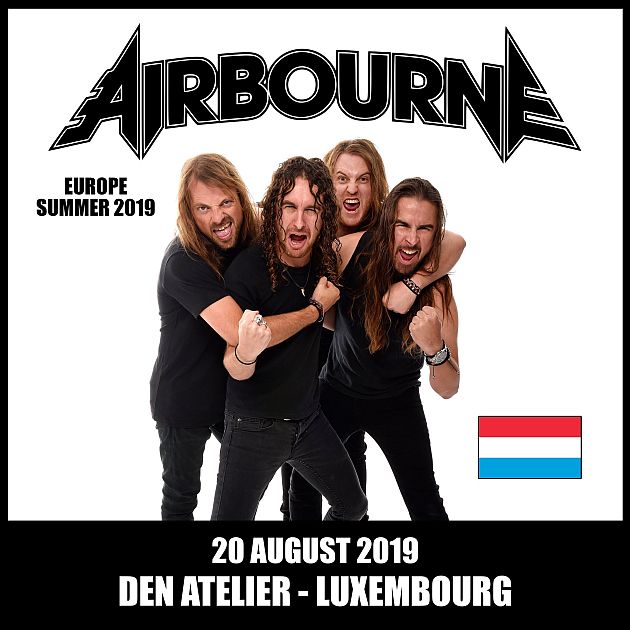 Den Atelier, Luxembourg City, Luxembourg
20th August 2019
Airbourne, Porn Queen

AIRBOURNE from the Australian town of Warrnambool with a population of 30,000, near the metropolis of Melbourne, embody everything that hard rock is all about: guitars on AC/DC level, choruses in the style of IRON MAIDEN, GUNS N' ROSES or MÖTLEY CRÜE as well as a stage show that triggers more euphoria than a techno rave and a heavy metal concert together.
Guitar riffs, energy, passion - already with their debut album 'Runnin' Wild' AIRBOURNE became the hottest Hard Rock band of the new millennium. They achieved broad international success with their two successors 'No Guts. No Glory' (2010) and 'Black Dog Barking'(2013), which entered the charts worldwide. Particularly in the German-speaking countries, the Australian quartet triggered storms of enthusiasm: Top 20 positions in Austria and Switzerland and top 5 positions in Germany.
2016 saw the release of their previous masterpiece: with the fourth long player 'Breakin' Outta Hell', AIRBOURNE have established themselves as the benchmark of all things in the international hard rock scene and were soon able to achieve the highest chart quotations in all countries with this work - including a top ten ranking in England for the first time and a third place in the German hit lists. Since then the band delivered a B-side compilation with 'Diamond Cuts' in mid-2017 and went on another world tour. Between several festival appearances, the band does not miss to make a small stop in Luxembourg.
Additional Concert Info
Doors: 19:00
Start: 20:00
Tickets: SOLD OUT
Info: https://www.atelier.lu/Upcoming-Shows/Airbourne
More on
Airbourne
,
Porn Queen