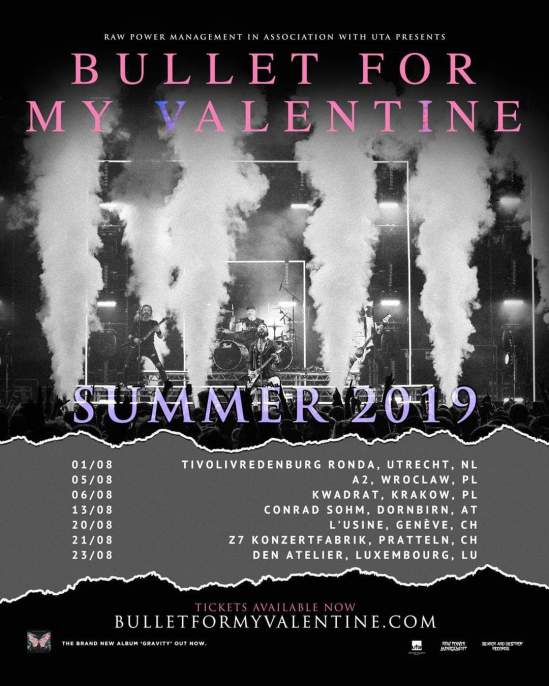 Den Atelier, Luxembourg City, Luxembourg
23 August 2019
Bullet For My Valentine, Scarlet Anger

Finding themselves five albums in and long established as one of the biggest British metal acts in music history, BULLET FOR MY VALENTINE have been busy rewriting their own future - finding new ways to invent intelligent noise and remaining unshackled by the legacy that comes with being masters of the trade. After initially forming as Jeff Killed John in 1998, eventually securing a five-album major label deal, their 2005 debut 'The Poison' and 2008 follow-up 'Scream Aim Fire' would provide an injection of what heavy music was very much lacking at the time.
Consecutive full-lengths 'Fever', 'Temper Temper' and 'Venom' would cement their stature as modern masters, selling millions of albums worldwide and being crowned Best British Band at the Kerrang! Awards three years in a row - where they've also been awarded for "Best Single", "Best Live Band" and "Best British Newcomer". It's not just the press and fans that have afforded them such faith - even the heroes that inspired them in the first place, bands like IRON MAIDEN and METALLICA, have personally selected BFMV to hit the road and share the stage with them.
Returning with new opus 'Gravity', the Welsh quartet have stretched their creative wings like never before, delicately balancing film-score electronica and icy synths in their trademark hellfire of hard rock. Yet, in many ways, its 11 tracks are the mark of a band at their most focused and refined – utilising an expansive whirlpool of noise to clarify their message, rather than overcomplicate it. With touring drummer Jason Bowld joining founding singer/ guitarist Matt Tuck, fellow axe man Michael 'Padge' Paget and bassist Jamie Mathias, this is a band reborn - in more ways than one…
As for the history to be made, it's very much the break of a new dawn for BFMV. Their founding frontman has his sights set higher than ever before. He admits he has already "won the lottery" living out the dreams he had as young teenager, honing his craft and learning to control every corner of that stage. He explains it's "been amazing and a privilege but you can't keep shouting about the past - lose steam and it can all be taken away." You have to keep on winning those lotteries, he humbly explains. Now, having headlined festivals around Europe and various other parts of the world - it's time to look closer to home…
Count the number of British bands that realistically look poised for such elevation and it soon becomes clear just how much BULLET FOR MY VALENTINE's hard work has been paying off. But no matter how much his band have achieved so far - topping charts and winning awards with platinum records - this will always be a band on-the-cusp in their frontman's eyes. And perhaps there lies the secret to their success…
With a new album, a new line-up and a new sound skyrocketing what is shaping up to be the biggest year of his career to date, you'd better believe him.
Additional Concert Info

Doors: 19:00
Start: 20:00
Tickets: 34 € + presale fee via
www.atelier.lu
Info: https://www.atelier.lu/Upcoming-Shows/Bullet-For-My-Valentine
More on
Bullet For My Valentine
,
Scarlet Anger