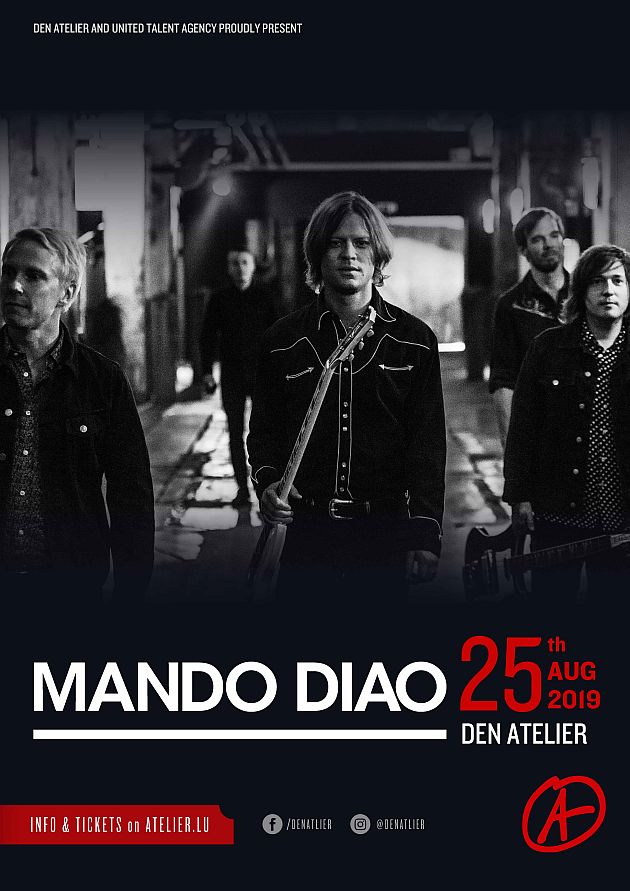 Den Atelier, Luxembourg City, Luxembourg
25th August 2019
Mando Diao

Since 2002 MANDO DIAO has released seven studio albums that have sold more than 1,5 million copies worldwide. In their career they have played more than 1,500 concerts in more than 30 countries and have headlined major festivals throughout the world. Their videos have become viral phenomena with tens of millions of views on YouTube. They have release a B-side and a 'Greatest Hits' collection and even an MTV Unplugged album and DVD. Many contemporary bands have come and gone but MANDO DIAO has continued to reach new heights and re-define popular music.
MANDO DIAO have always gone their own way following their artistic vision and interests. The road for them has never been straight and narrow but they continually test new territory; be it the Folk music inspired 'Never Seen the Light of Day', the collaboration with the Hip hop producers the Salazar brothers that delivered 'Give me Fire', or the 100 year old Swedish poems of Gustaf Fröding for 'Infruset'. With a focus on innovation MANDO DIAO have been early adopters and testers of new technology like web communities before Facebook and Myspace, 3D film, Virtual reality art work for the 2014 album 'Aelita', mobile applications and the first pop album in the world in 360 audio. Their interest in Sports has allowed them to perform at major football events, DEL Winter Game, Ski and Snowboard Championships, boxing events, the official song 'Love Last Forever' for the Cross Country World Championship 2015, as well as Formula 1 and DTM motor competitions.
MANDO DIAO is known for its Classic Rock and Roll sound. For them music is a craftwork as they each play several instruments, are producers and song writers. They started their career drawing heavy influences from rhythm and blues, the BEATLES, ROLLING STONES and THE KINKS. As they developed their own music they took in more pop and dance themes, but have always maintained the energetic and attitude of early rock and roll paired with Björn's unmistakably soulful voice. Their live shows are highly regarded by the audience because they are an explosion of energy and offer a diverse catalogue of hits as well as unexpected musicianship gems. MANDO DIAO's 8th studio album 'Good Times' was released and spring 2017 and the extensive tour took them throughout Europe, Japan, China and the Balkans.
Additional Concert Info

Doors: 19:00
Start: tba
Tickets: 36 € + presale fees under www.atelier.lu
Info: https://www.atelier.lu/Upcoming-Shows/Mando-Diao
More on
Mando Diao