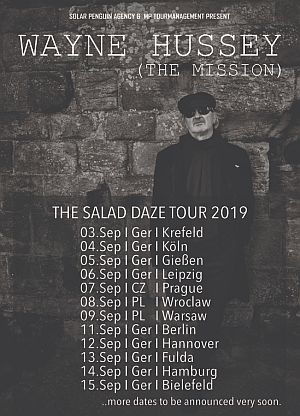 Monkeys Music Club, Hamburg, Germany
14th September 2019
Wayne Hussey - "Salad Daze" Acoustic Tour 2019 - Special guest: Ashton Nyte - acoustic set

WAYNE HUSSEY - member of the legendary UK Wave & Gothic Rock band THE MISSION, also significantly involved as guitarist and songwriter into the debut album 'First And Last And Always' of the SISTERS OF MERCY - is an artist who doesn't need much introduction. His solo program is diverse from THE MISSION hits, to cover versions of other legendary artists to rare & almost unheard songs.
His special guest for this tour - ASHTON NYTE - is no one less than frontman of the Gothic Rock band THE AWAKENING, originally based in South Africa. THE AWAKENING gave the Goth and Alternative scene dark romantic hymns like 'Needle And The Gun' or 'Dark Romantics'. With the new album, 'Chasm', a new chapter was started in November 2018. ASHTON NYTE will also perform an acoustic solo set with songs from his extended music career.
Following the concert the Monkeys Music Club will be hosting a DEPECHE MODE Party!
Additional Concert Info

Doors: 19:00
Start: 20:00
Tickets: from 23.25 € (+ charges, additional shipping) via
Eventim
Info: https://www.facebook.com/events/2257264107934261/
Artist: https://www.facebook.com/themissionuk / https://ashtonnyte.com/home
More on
Wayne Hussey