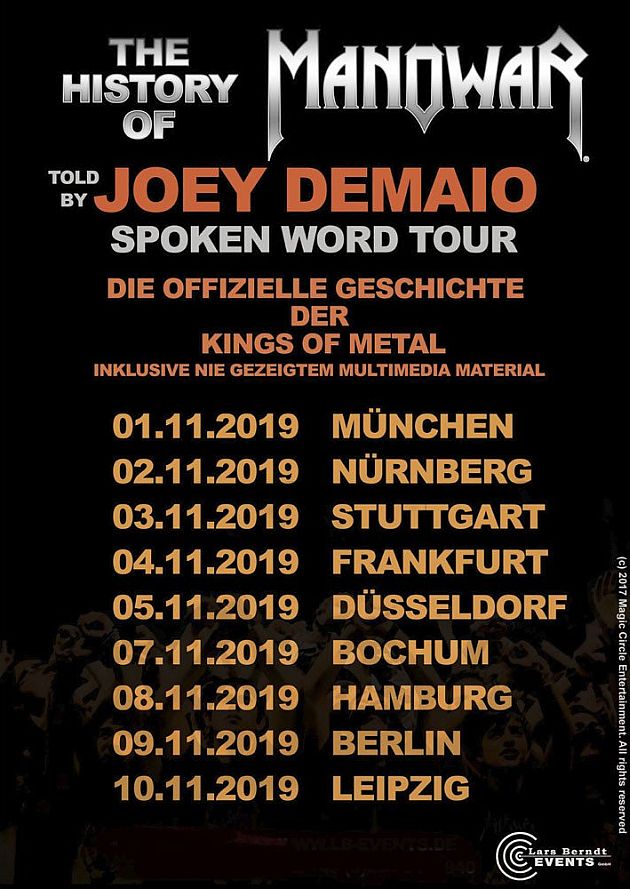 Beforehand a sold-out concert in Munich, Joey DeMaio surprised with an announcement that is sensational and surprising for every MANOWAR fan! For the first time, MANOWAR open their secret archives and tell their fans the official story about MANOWAR from the beginning till today! The life on tour and at the studio, fame and challenge, secrets and triumphs - Joey DeMaio reveals 'The Blood of the Kings' chapter by chapter, live on stage, within the frame of a fascinating one-man multi-media show. The 'Blood of the Kings' Spoken Word Tour is a rare, personal insight into the extraordinary career of one of the most legendary and resistant band of the Heavy Metal genre.
German Tour Dates

Nov 1, 2019 Munich – Technikum
Nov 2, 2019 Nuremberg – Kleine Meistersingerhalle
Nov 3, 2019 Stuttgart – Liederhalle (Silchersaal)
Nov 4, 2019 Frankfurt – Batschkapp
Nov 5, 2019 Düsseldorf – Savoy Theater
Nov 7, 2019 Bochum – Christuskirche
Nov 8, 2019 Hamburg – Kleine Laeiszhalle
Nov 9, 2019 Berlin – Tempodrom (Kleine Arena)
Nov 10, 2019 Leipzig – Haus Leipzig
General tickets ('General Admission' tickets) are now available at www.eventim.de. Ultimate Fan Experience (UFE) Upgrades, which offer a deeper live experience, will be on sale later. Ultimate Fan Experience Upgrades are only valid in connection with a General Admission Ticket. Get your General Admission Ticket now! For more information, visit manowar.com and follow facebook.com/manowar and twitter.com/manowar.
The influence of MANOWAR to the rock music is indisputable. During their impressive career, MANOWAR made an impression on Heavy Metal by the combination of unique craftsmanship and characteristic songwriting. With belief, persistence and the courage to strike out on their own, the band mastered insurmountable handicaps again and again. In a time, where casting show winners and shallow pop songs are dominating, MANOWAR give to their fans, what they always appreciate: true, real metal as soundtrack of their lives and songs that celebrate the audacity and the spirit of the community.
Awarded several times with Gold and Platinum, MANOWAR as headliner completed 35 tours with lots of sold-out events and more than 10,000 and even 50,000 fans. The unprecedented fan community of MANOWAR in Germany, Scandinavia, Italy, Spain, the US, Canada as well as in growing countries of Eastern Europe, Asia and South America is also present during the live shows: fans from more than 40 countries travelled to Germany, to celebrate the Magic Circle Festival.
As a tribute to their unique fan base and for the release of the 'Thunder In The Sky', in 2009 MANOWAR produced the power ballad 'Father' in more than 18 languages - another Heavy Metal premiere. With powerful studio albums like 'The Lord Of Steel' (2012) and the silver edition of 'Kings Of Metal MMXIV' - an entire new recording of the manifold awarded bestseller 'Kings of Metal' with lots of surprises and bonus tracks - MANOWAR thrilled their loyal fan community with indoor and festival performances. In the middle of 2016, MANOWAR announced their final tour after more than 40 years in Mount Olympus: 'The Final Battle' - that tour is an ultimate metal marathon full of hits and fan favourites and an explosive, brand-new multimedia production!