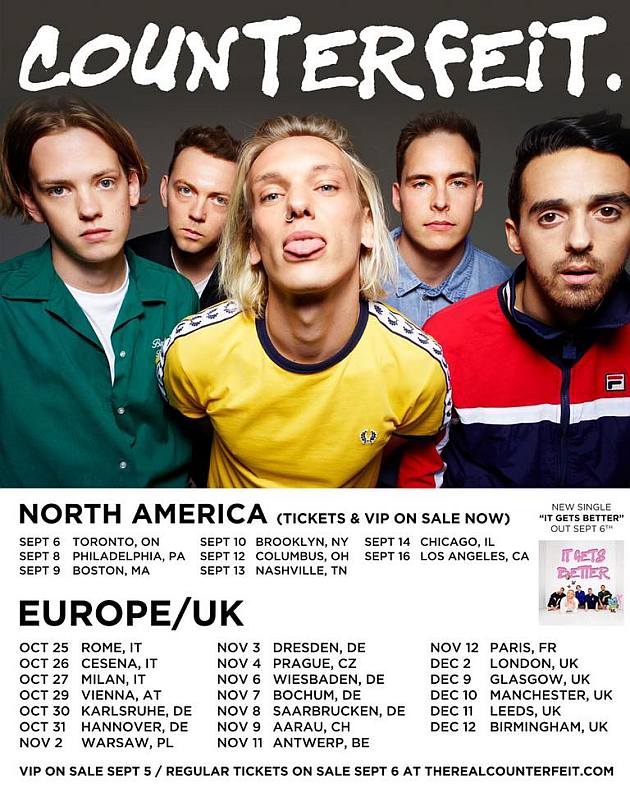 In August COUNTERFEIT. were on a small tour in Germany. The punk rockers around singer, guitarist and actor Jamie Campbell surprised their fans quite a bit: The focus of the sold out shows was the new, unreleased and even untitled album of the Brits.
Now they confirmed the second part of the tour, which will take them back to Germany in October and November, and also announced the first single release for the upcoming album - 'It Gets Better' will be released on Friday, November 6th.
The live shows of the band are extraordinary, and rightly so they have received the title of "Best Live Act" at the AIM Independent Music Awards. COUNTERFEIT. set one sparkling riff on top of the other, set every stage on fire with three guitars. The Londoners have soaked up the underground of their hometown to spit it out again in rich songs - sometimes gnarled Punk, sometimes sensitive ballads. This mix of the quintet has taken them around the world, on sold-out headliner tours in the UK and Europe and this year on the main stage of the Reading and Leeds Festival.
Friends of Punk Rock will definitely have a great evening - so a clear recommendation from us!
German Tour Dates

30.10.19 – Karlsruhe, Substage
31.10.19 – Hannover, Musikzentrum
03.11.19 – Dresden, Beatpol
06.11.19 – Wiesbaden, Schlachthof
07.11.19 – Bochum, Matrix Rockpalast
08.11.19 – Saarbrücken, Garage
Tickets:
http://bit.ly/counterfeit_tickets