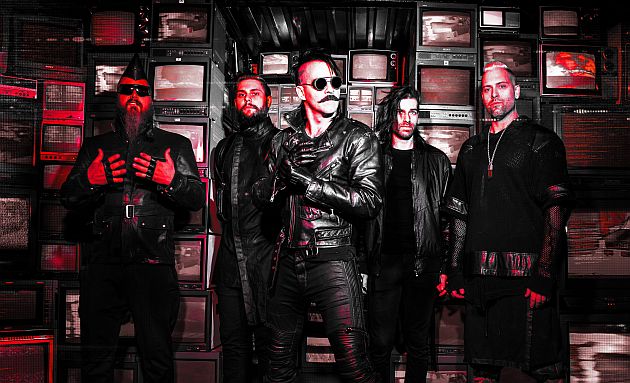 Reflections of Darkness presents 3TEETH in Germany, spring 2020! After touring Europe with MINISTRY, playing their own US headlining run with support coming from AUTHOR & PUNISHER and label mates GOST, Los Angeles based 3TEETH will be joining GHOSTEMANE as direct support on select North American dates in November. Come 2020 3TEETH will embark on a European headlining tour in February. All touring is in support of their most recent album, 'Metawar', released in July.
Right after the release of their self-titled first album, 3TEETH received an invitation to go on a major arena tour with TOOL and PRIMUS. And since then, the Industrial Metal gods just got better. The second album, '<shutdown.exe>', brought them headline tours and support slots for bands like RAMMSTEIN, HIM and DANZIG in Europe and the USA. Now, 3TEETH go even deeper with 'Metawar': "Our debut was about human vs. world, on the second album was the topic of human vs. human, and on the new record it is world vs. world," says front man Alexis Mincolla, pondering that man must create his own world if he does not want to be destroyed by someone else's.
'Metawar' is an acoustic attack on the perception management systems that control our world. It is a countermeasure to the invisible war of ideologies, which continually pushes avatar chess pieces back and forth on the battlefield of social platforms. It is directed against a world in which all are connected to a huge prosthetic digital nervous system and are constantly manipulated by the daily updated ideology. 3TEETH rammed this album into the cogwheel gearboxes that fuel the fiercely riveting rhetoric, exposing hypocrisy, idiocy and madness on all sides.
The Californians do it with the aggressive, uncompromising attitude they are used to. As producer, they hired Sean Beavan, who has worked with such greats as NINE INCH NAILS and MARILYN MANSON. He knows how to deal with the cynical humor that 3TEETH uses to analyze our world and congenially transforms it into a brutal sound attack. This promises full moshpits and a great visual realization for the upcoming tour in February.
German tour dates

08 Feb 2020 Cologne – MTC
10 Feb 2020 Hamburg – Hafenklang
20 Feb 2020 Berlin – Cassiopeia
24 Feb 2020 Munich – Backstage Club
25 Feb 2020 Frankfurt – Nachtleben
Concert ticket sale will start on Wednesday, 11th September 2019, 11:00. The price is EUR 14.00 plus fees. Tickets are available at all known CTS presale ticket shops and by phone hotline via +49 (0) 1806/853653 (20 cents per landline call, mobile max. 60 cents/call), at fkpscorpio.com and
eventim.de
.
More on
3Teeth