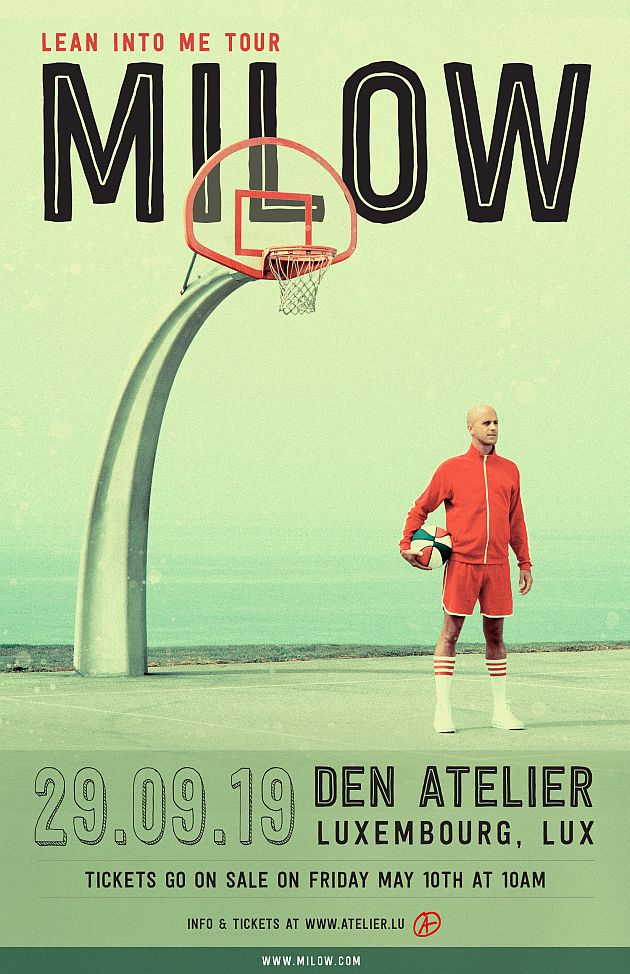 Den Atelier, Luxembourg City, Luxembourg
29th September 2019
Milow

Known for his introspective acoustic Pop, MILOW is the alias of Belgian singer/ songwriter Jonathan Vandenbroeck. After 'You Don't Know' from his 2006 full-length debut reached the Top Ten of the singles charts in Belgium, Switzerland, and the Netherlands, he had a chart-topping international hit with his cover of 50 CENT's 'Ayo Technology' in 2009. A decade after his debut, MILOW's sixth LP, 2016's 'Modern Heart', went to number two in Belgium.
He released his debut album, 'The Bigger Picture', on his own Homerun Records in early 2006. Produced by Nigel Powell (UNBELIEVABLE TRUTH, FRANK TURNER), the album spawned a series of singles, one of which, 'You Don't Know' ,reached number three in Belgium and charted in a half dozen other European countries. The song was re-recorded with producer Jo Francken for an EP release in 2007, along with a couple of live acoustic tracks and a live cover of Bruce Springsteen's 'Thunder Road'. 'The Bigger Picture', reissued with the updated version of 'You Don't Know' appended as a bonus track, in turn became a Top Ten hit on the Belgian albums chart. In 2007, Vandenbroeck was honoured with a TMF Award for Best New Artist. His follow-up album, 2008's 'Coming of Age', was produced by Francken. It topped the album chart in Belgium. He followed it with a self-titled album in 2009 that included the tongue-in-cheek acoustic cover of rapper 50 Cent's 'Ayo Technology'. That song charted across continental Europe, going to number one in several countries, and cracked the Canadian Hot 100.
MILOW's fourth LP, 2011's 'North & South', was informed by the death of his father. The single 'You and Me (In My Pocket)' reached the Top Ten in countries including Belgium, Germany, and Switzerland; the album reached the Top Five there and in the Netherlands. In 2012, he won Best Belgian Act at the MTV Europe Music Awards. Still releasing albums on his own label, he issued 'Silver Linings' in 2014; it topped Belgium's album chart. In 2016, he returned with his first Top Ten single in five years, 'Howling at the Moon'. It was included on his sixth long-player, 'Modern Heart', which arrived the same year. That album reached number two. Over the next two years, he released collaborative singles including 'Summer Days' with Colombia's Sebastián Yatra and 'Lay Your Worry Down' featuring American singer/ songwriter Matt Simons. In May this year MILOW released his seventh LP 'Lean into Me' which he will present end September at Luxembourg.
Additional Concert Info

Doors: 19:00
Start: 20:00
Tickets & Info: https://www.atelier.lu/Upcoming-Shows/MILOW
Facebook Event: https://www.facebook.com/events/1992532184185439/
More on
Milow