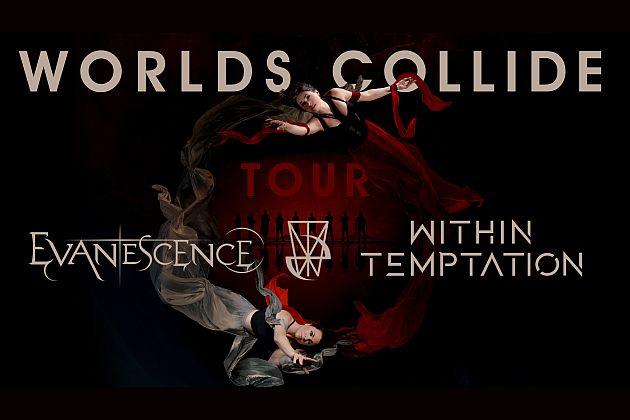 Attention: due to the Corona crises, this tour is rescheduled from April 2020 to September / October 2020!
Chances are good that this will become one of the biggest tours of the upcoming years: with EVANESCENCE and WITHIN TEMPTATION, two of the most successful bands of the genre come together for touring Europe as co-headliners. Kick-off is on April 4, 2020 in Brussels. The VIP sale started already on September 17; general ticket sale begins on September 20.
The concert tour of both bands, which are led by two of the most influencing and creative women of the Rock genre - Amy Lee (EVANESCENCE) and Sharon den Adel (WITHIN TEMPTATION) - includes 12 gigs in European cities, e.g. six in Germany and one in Switzerland.
"We have exciting news... In April, we will unite with EVANESCENCE to present a very special co-headliner tour", said Sharon den Adel. "It will become a tour that you definitely don't want to miss. It was great to meet Amy and the rest of the band a short while ago. I think, we have much in common, but in particular, I am sure, that we share the same passion and fire for what we do. I am very delighted to tour Europe together and to experience something that is unforgettable."
"It is very exciting for us to work together with WITHIN TEMPTATION and to play that epic tour in April. For a long time, many people asked us again and again, if we are interested in doing something together, and now we will ensure, that the waiting was worth it! I look forward to hear Sharon's beautiful voice every evening."
European Tour Dates

Wed, SEP 02 - Glasgow, United Kingdom
Thu, SEP 03 - Leeds, United Kingdom
Sat, SEP 05 - Birmingham, United Kingdom
Sun, SEP 06 - London, United Kingdom
Tue, SEP 08 - Amsterdam, Netherlands
Wed, SEP 09 - Amsterdam, Netherlands
Fri, SEP 11 - Bruxelles, Belgium
Sat, SEP 12 - Bruxelles, Belgium
Mon, SEP 14 - Paris, France
Thu, SEP 17 - Hamburg, Germany
Fri, SEP 18 - Leipzig, Germany
Mon, SEP 21 - Berlin, Germany
Tue, SEP 22 - Munich, Germany
Thu, SEP 24 - Dusseldorf, Germany
Fri, SEP 25 - Esch-Sur-Alzette, Luxembourg
Sun, SEP 27 - Zürich, Switzerland
Tue, SEP 29 - Milan, Italy
Thu, OCT 01 - Madrid, Spain
Tickets

There will be a number of VIP Ticket Packages available to make sure, that the fans will get the best places. Buyers of VIP Packages also have the chance, to meet the band, to take part in the sound check, and to get exclusive merchandising items. For further details, please visit www.evanescence.com and www.within-temptation.com. Tickets for the German shows:
http://bit.ly/worldscollide2020
About Evanescence

The two-time Grammy winners EVANESCENCE were founded in the middle of the nineties and celebrated major success all around the world. It's largely contributed to the band, that women in Rock loomed larger than ever before. With their 2003 released debut album 'Fallen', the US band laid the foundation: the long player spent 43 weeks in the Top Ten of the US Billboard Charts. Worldwide, more than seventeen million copies were sold. The single 'Bring Me To Life' (recorded with the 12 Stones singer Paul McCoy) reached number five of the US charts, number two in Germany and number one in the UK. The also very successful single 'My Immortal' reached number seven of the US and UK charts, and number five of the Official German Charts. In total, four singles were released from the album, among others 'Going Under' (number five of the US Modern Rock Charts, number eight in UK, number fifteen in Germany) and 'Everybody's Fool' (number thirty-six of the US Modern Rock Charts, number twenty-three in the UK). In Germany alone, the band sold more than 1.2 million copies of 'Fallen'.
The second studio album 'The Open Door' peaked the US-American and German charts, more than 5 million copies were sold all around the world. In 2011, the third album 'Evanescence' directly peaked the US-American charts. In autumn 2017, the band around Amy Lee, who is singer, songwriter and pianist, bassist Tim McCord, drummer Will Hunt, lead guitarist Troy McLawhorn, and guitarist Jen Majura, released their fourth album 'Synthesis', which is their most ambitious album so far. 'Synthesis' was released on the Sony Music-Label Columbia, reached number five in Germany and number eight in the US. In October 2017, the world tour 'Synthesis Live' together with an entire live orchestra started.
More on
Evanescence
About Within Temptation

For the last two decades, the band from the Netherlands belongs to the leading music acts of the scene with their dark, anthemic rock songs. Recently, they signed a worldwide contract with Universal Music Germany and started a partnership with Spinefarm Records for North America and Great Britain. The first result of the new constellation is the album 'Resist' that was released on February 1, 2019. With now seven albums, 'Enter' (1997), 'Mother Earth' (2000), 'The Silent Force' (2004), 'The Heart of Everything' (2007), 'The Unforgiving' (2011), 'Hydra' (2014), and more than 3.5 million sold copies of their records, Within Temptation with their band leaders Sharon den Adel and Robert Westerholt belong to the most successful Heavy Rock bands in this day and age. They performed as headliner at all important European festivals, e.g. Download, Hellfest, Wacken Open Air, Graspop, and Woodstock Poland. During their career, they were honoured with several international awards like one World Music Award, MTV Europe Music Awards, and one Metal Hammer Award. The new album 'Resist' stands for a band internal transformation. Its ten hymnal tracks convince with great melodies and dark hook lines. In numerous countries, 'Resist' reached number one chart position - like for the first time ever in Germany.
More on
Within Temptation