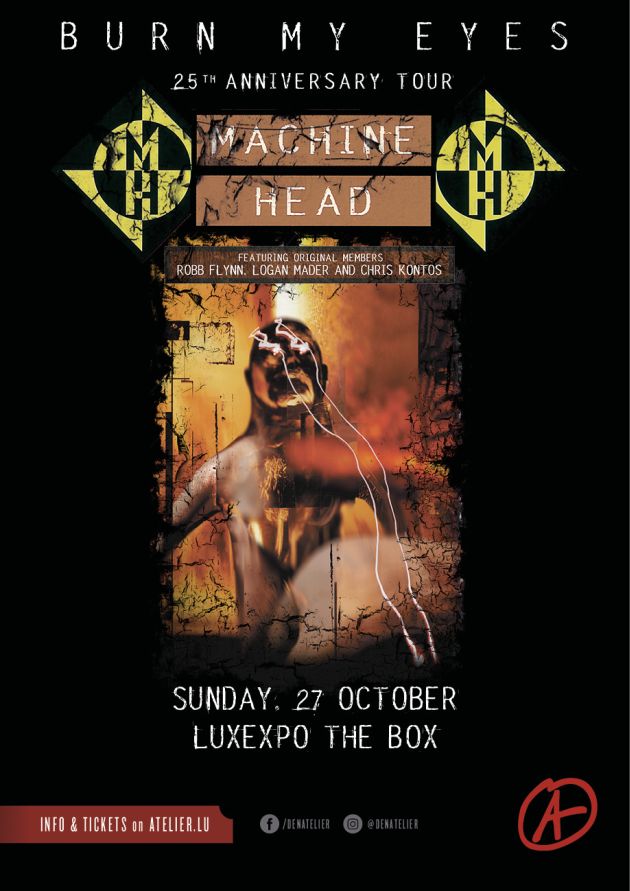 Luxexpo The Box, Kirchberg, Luxembourg
27th October 2019
Machine Head - "Burn My Eyes" 25th anniversary tour

MACHINE HEAD are pleased to announce the first part of their tour to celebrate the 25th anniversary of their classic debut 'Burn My Eyes'. The tour starts on 5 October in Freiburg, leads through Europe and UK and ends in Dublin, Ireland on 8 November. The band will play a total of eight shows in Germany, Austria, Luxembourg and Switzerland.
MACHINE HEAD have of course come up with something very special for their anniversary shows: In the first part of the three-hour (!!!) show Rob Flynn and bassist Jared MacEachern play together with two musicians on guitar and drums (Phil Demmel and Dave McClain have left the band at the end of 2018) several hits from the recent Machine Head history: 'Imperium', 'Halo' or 'The Blood, The Sweat, The Tears' for example. In the second part Flynn and MacEachern play together with ex-drummer Chris Kontos and ex-guitarist Logan Mader the complete 'Burn My Eyes' record!
'Burn My Eyes' is the debut studio album by American Heavy Metal band MACHINE HEAD, released on August 9, 1994 by Roadrunner Records. The album's themes generally tie into the social disorder and corresponding inner tension that the band was exposed to in their native Oakland, California, reflected in Robb Flynn's lyrics, such as the Los Angeles Riots of 1992 and the Waco Siege of 1993. The album shipped over 400,000 copies worldwide, becoming Roadrunner Records' best-selling debut album until the release of SLIPKNOT's debut album. This is MACHINE HEAD's only studio album to feature drummer Chris Kontos.
Watch the official YouTube announcement right here:
Additional Concert Info

Doors: 19:00
Start: 20:00
Info & Tickets: https://www.atelier.lu/Upcoming-Shows/Machine-Head
Facebook Event: https://www.facebook.com/events/281728549409212/
More on
Machine Head