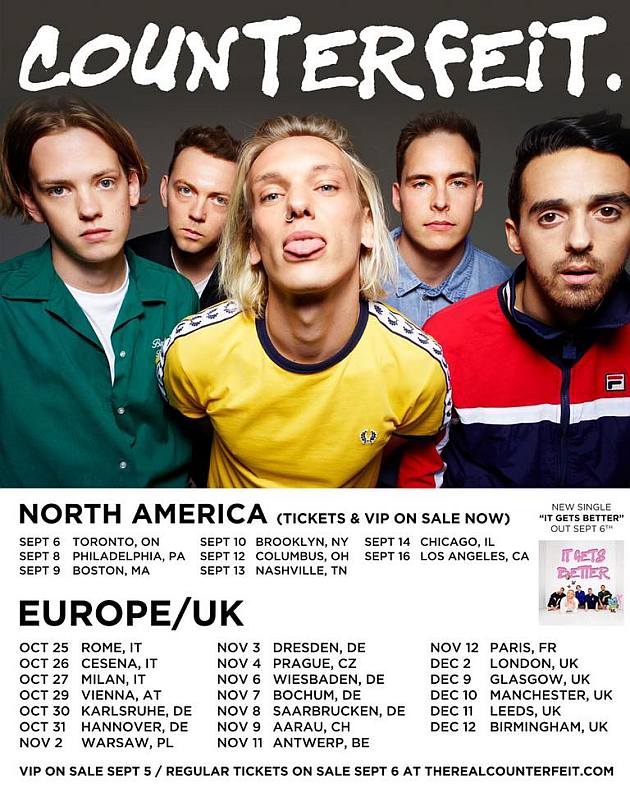 Progresja Club, Warsaw, Poland
2nd November 2019
Counterfeit + support

COUNTERFEIT is a British band that combines classic Punk Rock with a slightly more modern and alternative playing. Although they have only been around since 2015 and have only one studio album on their account, the five is fresh enough and at the same time rooted in the classic ideas for music that almost break through to the European and world mainstream.
The catchy hits in combination with energy and aggression must result in great concerts. This is exactly the case with COUNTERFEIT! The band is great at warming up the festival audience, as the participants of the Poland'rock Festival from 2017 and 2018 could find out, where the guys played on the small and large stage respectively. However, true energy and madness is only visible at club concerts, where the driving force of the performance is a brilliant musical form and above-average contact with the audience.
The band are going to play new songs from unreleased and even untitled album. Along with general admission tickets, the VIP tickets are on sale now and they include early club entering, photo with the band, Q&A, time with the band, VIP-pass and a poster with autographs.
Additional concert info

Doors: VIP - 14:30, normal tickets - 15:00
Progresja club, Fort Wola 22, Warsaw
Tickets: https://progresja.com/events/counterfeit-support/
Facebook event: https://www.facebook.com/events/1378730512282419/
Artists: www.therealcounterfeit.com