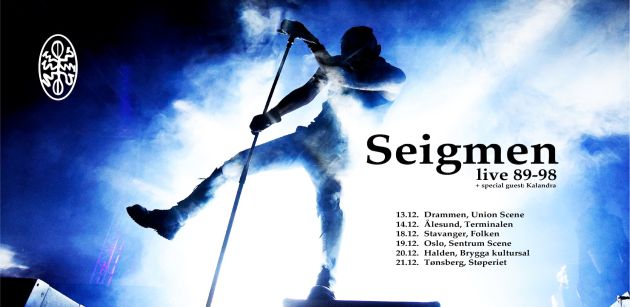 Once traditions are made, one has to take good care of them and so do SEIGMEN. The band from Tønsberg, Vestfold in Southern Norway once started playing some pre-Christmas gigs in their hometown Tønsberg. While everyone was expecting them to do it again in December 2018, they surprisingly announced a whole tour through six Norwegian cities. And so, this year the announcements were awaited with excitement and also hope for another full tour. And so, for the 4th time in a row SEIGMEN gonna play in Tønsberg the Saturday before Christmas, but also five more places - Drammen, Ålesund, Stavanger, Oslo and Halden.
The upcoming tour is dedicated to the long-awaited release in the end of 2019 of the vinyl box with the remastered first five albums 'Pluto', 'Ameneon', 'Total', 'Metropolis' and 'Radiowaves' that were released between 1992 and 1997 and so the songs performed on tour cover the era from 1989 (the year SEIGMEN was founded) to 1998. The crowdfunding for the vinyl box and remastered album versions reached marvellous more than 150 %.
A foretaste how such a setlist could look like was given during the epic four gigs in Bergen special for the 50-years-anniversary of the student club Hulen where SEIGMEN played four nights in a row and reconstructed four of their gigs that they played in the 90ies, each one of them dedicated to another album. Also really rare gems that haven't been played in a long, long while where rehearsed again for this occasion like 'Rosa Boots', one of the first SEIGMEN songs ever written (to be exact KLISNE SEIGMENN songs as the band was called at the beginning). You can read about the Hulen-birthday-bash-special
here
.
The tickets for the shows are selling quickly, 50 % of the tickets for the Stavanger gig were gone in less than a day!
The special guests on this tour in all cities will be KALANDRA. KALANDRA unite magical melodies, spherical vocals and instrumental creations to soundscapes that tell fairy tales from up North. An exciting act that will support SEIGMEN on their pre-Christmas tour 2019.
Tour Dates

13 Dec 2019 Drammen, Union Scene Stavanger, Folken
14 Dec 2019 Ålesund, Terminalen
18 Dec 2019 Stavanger, Folken
19 Dec 2019 Oslo, Sentrum Scene
20 Dec 2019 Halden, Brygga Kultursal
21 Dec 2019 Tønsberg, Støperiet
Tickets are now available at

Drammen: http://bit.ly/2n6ko8i
Ålesund: http://bit.ly/2n6kNrk
Stavanger: http://bit.ly/2oClZmK
Oslo: http://bit.ly/2oCVzkL
Halden: http://bit.ly/2oyltpD
Tønsberg: http://bit.ly/2oyrfrm
Artists
https://www.facebook.com/Seigmen/
https://www.facebook.com/Kalandramusic/