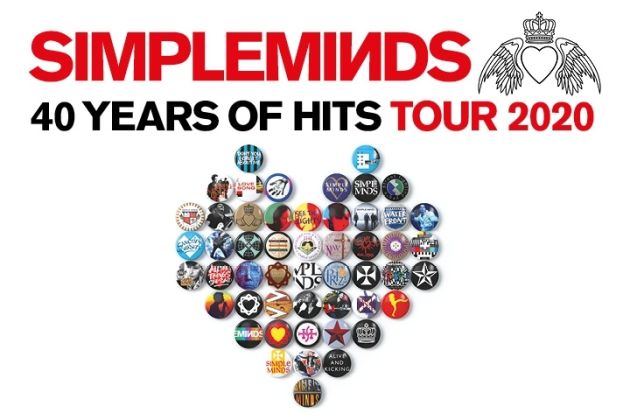 For forty years, SIMPLE MINDS are musical pioneers. They shaped the Post Punk era largely, when the enraged noise of 1977 fragmented in a thousand sounds. SIMPLE MINDS adopted the stylish Art Rock of DAVID BOWIE as well as the electronic disco sound of DONNA SUMMER. They turned, changed and renewed their music several times, and became one of the biggest bands on the planet. Their monster hit 'Don't You (Forget About Me)' peaked the US Charts, and five of their albums became number one in Great Britain.
SIMPLE MINDS sold 60 million records and sold out the biggest stadiums in the world. As Jim Kerr said: "I am always very proud, when people ask: 'Which Simple Minds do you mean? The Avant-garde, the Art rockers, the pop band, the Ambient project, the instrumental band, the political lyricists, the Folk rockers, the stadium rockers?' To manage all these styles at the same time was always the quintessence of SIMPLE MINDS, something very special." This was and this is the driving force of the founding members and childhood friends, singer Jim Kerr and guitarist Charlie Burchill, even after 40 common years as a band. This anniversary has to be celebrated accordingly.
Firstly, there is the Best-of album '40: The Best Of - 1979 - 2019' being releases at the beginning of November, and the monstrous 4-CD live album 'Live In The City Of Angels' with release date at the beginning of October, which comes along with all great hits and rarely performed songs. Let's remember: The first and very successful live record was 'Live In The City Of Light'. Secondly, SIMPLE MINDS will go on an extensive world tour, and they come to Germany for incredible 15 dates to perform songs from all parts of their very successful career, of course all the fan favorites, but also new creative stuff.
"We are not a rock band that stays the same. But we have not changed the line-up, to be cool", says Kerr. "We do that, because it's great to have so many incredible musicians on stage. I am very thankful for what we have achieved, but I am still crazy enough to believe, that we can reach new ups again and again. That's why we do what we do: write songs, make records, and play live." And Burchill adds: "There were so many incarnations of Simple Minds, but we never lost our identity. Such a legacy may be a burden, but for us, it was a constant challenge."
SIMPLE MINDS are two musicians, who still are hungry for live performances, who manage to reinvent themselves again and again, as they did recently with their acclaimed record 'Walk Between Worlds', and who play convincing concerts for 40 years. Congratulations to your 40th anniversary, and have many wonderful performances next spring!
German Tour Dates

March 14, 2020 Münster – MCC Halle Münsterland
March 15, 2020 Cologne – Palladium
March 16, 2020 Hamburg – Sporthalle
March 18, 2020 Hannover – Swiss Life Hall
March 19, 2020 Berlin – Columbiahalle
March 20, 2020 Erfurt – Thüringenhalle
March 21, 2020 Ludwigsburg – MHP Arena
March 23, 2020 Offenbach – Stadthalle
March 24, 2020 Erlangen – Heinrich–Lades–Halle
March 27, 2020 Aurich – Sparkassenarena
March 28, 2020 Bremen – Pier 2
March 29, 2020 Bielefeld – Lokschuppen
March 31, 2020 Freiburg – Musikclub Sick Arena
April 1, 2020 Ravensburg – Oberschwabenhalle
April 2, 2020 Saarbrücken – Saarlandhalle
Ticket sale starts on October 2 (Wednesday), at 10 a.m. exclusively via
Eventim
. From Friday, October 4, at 10 a.m., tickets are available for EUR 41.00 plus fees at all known CTS ticket shops, via hotline 01806-853653 (20 cents/call, mobile max. 60 cents/call), fkpscorpio.com and eventim.de.
More on
Simple Minds