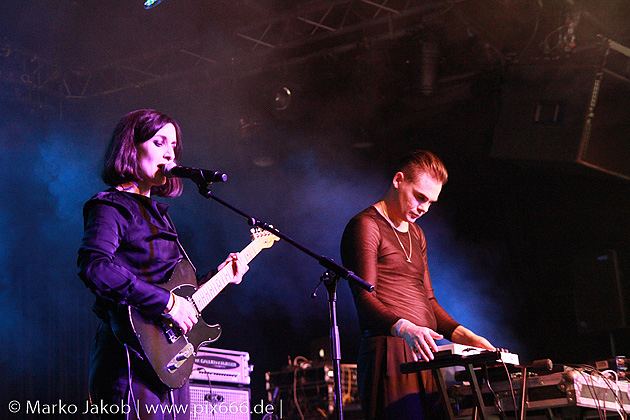 Café Glocksee, Hanover, Germany
16th November 2019
Lebanon Hanover & special guests: Konstantin Unwohl


In psychology there is a phenomenon called "alien feeling". It describes an emotion of not belonging to this world. Affected people are often highly sensitive, emphatic and creative. They sometimes see everyone else in the world as a collective group of beings who form a community of which they are not a part of. If there would be a soundtrack for this feeling LEBANON HANOVER would fit perfectly.
In their own words they put it as follows: "An ice cold reply to the alienated world coming from two warm beating hearts." These hearts belong to the duo of Larissa "Iceglass" Georgiou (voice, guitar) and William Maybelline (voice, bass, programming). They appear as true romantics of the modern age. The name of their latest album: 'Let Them Be Alien'.
Support act is KONSTANTIN UNWOHL, a German guy who fits in the abovementioned world pretty good as well. His music would also fit into a movie about a mad house in urban West Germany during the Cold War. UNWOHL (German for unwell) uses his mother language in a surreal way, embedded in sounds representing, dichotomy, inner conflict and extravagance.
Additional Concert Info

Doors: 19:30
Tickets: 19.00 EUR + 1.90 EUR fee via https://ticket2go.de/#!/checkout/1574
Facebook Event: https://www.facebook.com/events/2262487254014631
Artists: https://lebanonhanover.bandcamp.com / https://konstantinunwohl.bandcamp.com