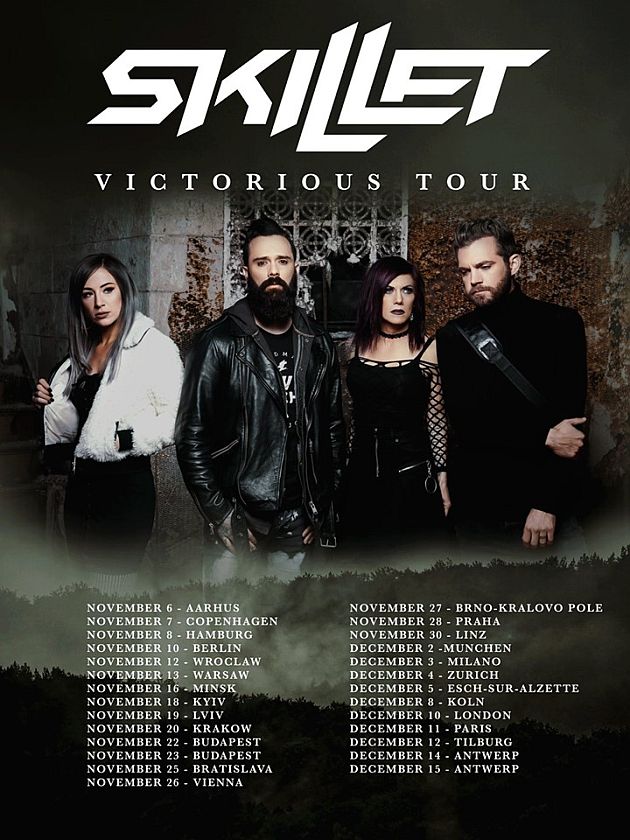 Rockhal, Esch sur Alzette, Luxembourg
5th December 2019
Skillet - "Victorious Tour" 2019

SKILLET have been at the forefront of the Christian Rock scene, which is particularly popular in the USA, for two decades. Their last three albums conquered the Top 5 of the US Billboard Charts and with their last album 'Unleashed' they also entered the Top 20 in Germany. The band from Memphis/ Tennessee was twice awarded the title "Hardest Working Band" because of their numerous tours. So it's only logical that after the release of their tenth studio album, which was released August 2nd under the title 'Victorious', they will go on a world tour of the same name. Between 8 November and 8 December SKILLET will be performing four concerts in Hamburg, Berlin, Munich and Cologne in Germany and one concert in Esch sur Alzette in Luxembourg.
Singer and bassist John Cooper could not have imagined how much the name of a new side project he launched in 1996 would become its destination. SKILLET means "crucible". Cooper, then the front man of the band SERAPH, chose the name because the three original members came from completely different genres and their imprints merged here like in a jar. Over the following years it became clear that this should become the determining factor. Members came and went, and with every new member the sound of SKILLET changed.
Initially more Post-Grunge, SKILLET received a strong electronic orientation with Cooper's wife Korey joining the band on keyboard and guitar. The albums released in this line-up are partly Hard Rock, partly Symphonic or Alternative Metal. With the eighth album 'Rise' SKILLET found their style of Melodic Metal, which also attracted international attention. 'Rise' was inspired by the powerful riffs of guitarist Seth Morrison, who joined in 2011, and the whipping rhythms of her current drummer Jen Ledger.
A sound that was further consolidated with the last, most successful album worldwide, 'Unleashed'. To date, SKILLET has placed 35 singles in the top 20 of the US Christian Rock Charts. 18 of these climbed to the top position. The band has sold more than 12 million records so far and their songs have been streamed more than a billion times last year on Spotify alone. Two Grammy nominations and a Billboard Music Award for her platinum-awarded album 'Awake' in the USA.
If not in the studio, SKILLET are almost always on tour. Several times a year they play all over North America. Due to the broad canon of their work, followers of different genres unite at their concerts. Every concert becomes a true rock festival. You can experience this in Germany as part of their 'Victorious Tour' at four shows in Hamburg (08.11.), Berlin (10.11.), Munich (02.12.) and Cologne (08.12.) as well in Luxembourg at the Rockhal in Esch sur Alzette (05.12.).
Additional Concert Info

Doors: 19:00
Start: 20:00
Tickets & Info: 39.50€ + charges (pre-sale) via https://www.rockhal.lu/events-tickets/rock-pop/show/detail/skillet-1/
Facebook Event: https://www.facebook.com/events/337220810325599/
More on
Skillet