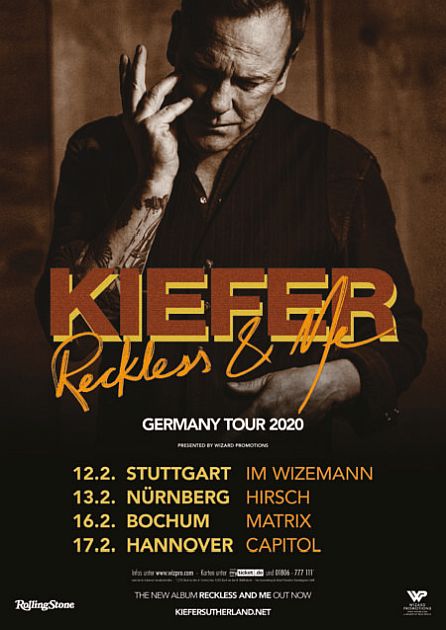 After successful tours in 2017, 2018, and 2019, Hollywood and TV star and singer Kiefer Sutherland announces new concerts in Germany in February 2020. He will introduce his new album 'Reckless & Me' (released on April 26, 2019 via BMG) at the four shows (see dates below). Ticket pre-sale starts on Thursday, October 31, 2019 at MyTicket and CTS Eventim at 10:00 a.m. General ticket sale starts on Friday, November 1, 2019 at 10:00 a.m. via www.myticket.de, by phone at +49 (0) 1806 - 777 111 (20 cents/call – mobile max. 60 cents/call), and at all known ticket shops.
Kiefer Sutherland is known as professional artist for more than thirty years, even one of his first movies, 'Stand By Me' (1986), became a movie theatre classic, and it is followed by blockbusters like 'The Lost Boys', 'Young Guns', 'Flatliners', 'A Few Good Men', 'A Time To Kill', 'Dark City', 'Phone Booth', 'Melancholia', and 'Forsaken', a classic Western movie together with his father Donald Sutherland, and the TV series 'Designated Survivor'. From 2001 - 2010, the real time TV series '24' revolutionizes the entire genre, and Sutherland became best paid actor worldwide.
That Sutherland is blessed with other talents is not so common, but he dedicates the same lifeblood like he does with acting. Starting in 1992, together with John English he works as cattle breeder for more than ten years. The two are registered as professional rodeo riders and became members of the US national league USTRC. Together with the team, he wins several rodeos in Phoenix, Indio, and Los Angeles.
Together with his best friend Jude Cole, he founds the small but nice record label Ironworks in 2002. It was their aim to support local musicians and to provide them a platform in a time, where the music industry went through a monumental upheaval. Better-known Ironworks artists are Rocco DeLuca, The Burden, HoneyHoney, and Billy Boy On Poison. In 2009, Sutherland leaves the label to have more time for new challenges, and they knock at the door in spring 2015. When his played to self-written songs to his best friend, Cole is instantly impressed and convinces Sutherland to not give the songs to other artists, but to create his own, full album.
The result was released in summer 2016 under the name 'Down In A Hole', and as Sutherland said, it's like a diary. "All of the eleven songs are based on personal experiences. It's a nice thing and very satisfying being able to look back on your life, on the good and bad things, and to express it with music. And the best is: as much fun as I had writing and recording these songs, so much fun do I have playing them live in front of a live audience; it is something I never expected to happen."
<iframe width="560" height="315" src="https://www.youtube.com/embed/RFjoWWfn2RA" frameborder="0" allow="accelerometer; autoplay; encrypted-media; gyroscope; picture-in-picture" allowfullscreen></iframe>
The Stagecoach Festival in Indio, California at the end of April was the beginning of a world tour, and in June 2017, it brought the singer Sutherland to Germany for the first time. The concerts were a triumph, press and fans celebrated him for the nonchalant way in performing his songs live on stage. Another tour in June 2018 was sold out, too. Then, Sutherland released his second album 'Reckless & Me' (BMG) at the end of April 2019, which he performed live on stage in Germany in October 2019 at sold out venues. The website cntry.de writes about his album: "No matter if whispering poetical, honestly thinking, or energetically rocking - 'Reckless & Me' is an authentic Country Rock with skilfully placed scent marks of Blues, Folk, and Americana-– carried by the roaring, raw voice of the smoking Whiskey lover. With his second studio album, Kiefer Sutherland establishes himself as passionate musician and honest story teller."
There will be a second tour leg in February 2020 to gain more fans in Germany. More information here: www.kiefersutherland.net
Germany Tour 2020
Wed Feb 12, 2020 – Stuttgart, Im Wizemann
Thu Feb 13, 2020 – Nuremberg, Hirsch
Sun Feb 16, 2020 – Bochum, Matrix
Mon Feb 17, 2020 – Hanover, Capitol
More on
Kiefer Sutherland