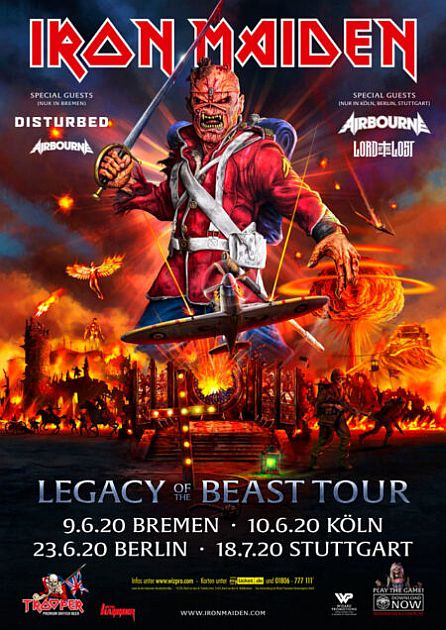 Attention: Due to the current Corona situation, the dates of the IRON MAIDEN tour originally planned for summer 2020 are postponed to summer 2021! Already bought tickets remain valid.
As part of the final part of their "Legacy Of The Beast Tour" in 2020, IRON MAIDEN return to Europe to perform several shows, including four in Germany. They are live on stage here: on June 9 at the Bürgerweide in Bremen, on June 10 at the RheinEnergie Stadium in Cologne (both cities were visited by the band in the 90s for the last time), on June 23 at the Waldbühne in Berlin, and on July 18 at the Mercedes-Benz-Arena in Stuttgart. The gig in Stuttgart will be the first stadium show there of IRON MAIDEN, where they played live for the last time in 2011. Special guests for the shows in Bremen are DISTURBED and AIRBOURNE, and in Cologne, Berlin, and Stuttgart, there will be AIRBOURNE and LORD OF THE LOST.
Ticket pre-sale starts on Wednesday, November 13, 2019 at 10:00 a.m. via MyTicket and CTS Eventim. General ticket sale starts on Friday, November 15, 2019 at 10:00 a.m. via www.myticket.de, by phone at +49 (0) 1806 - 777 111 (20 cents/call, mobile max. 60 cents/call) and at all known ticket shops. As usual, there will be an exclusive pre-sale for IRON MAIDEN fan club members, and it starts on Monday, November 11, 2019 at 10:00 a.m. For full information regarding ticket sale, please visit www.ironmaiden.com.
Since the beginning of the tour in 2018, the band traveled to 39 countries all over the world and performed for almost two million fans. They also were headliner at the legendary Rock-In-Rio festival in Brazil with more than 100,000 visitors.
Iron Maiden singer Bruce Dickinson says: "The Legacy tour was a fantastic experience so far, and the general reaction to the stage show and all the other crazy requisites (and Eddie!), that I play with, was simply phenomenal. The entire band had so much fun, and we are very excited to come back to Germany and to attract even more fans." That show, fully packed with hits and favorites from the entire band history, offers something for everyone, no matter if hardcore Maiden fan or occasional concert visitor. More information about Iron Maiden here: www.ironmaiden.com | www.warnermusic.de
IRON MAIDEN - Legacy Of The Beast Tour 2020

Sun June 13, 2021 (postponed from June 9, 2020) – Bremen, Bürgerweide - Special Guests: Disturbed & Airbourne
Sat June 26, 2021 (postponed from July 18, 2020) – Stuttgart, Mercedes-Benz Arena - Special Guests: Airbourne & Lord Of The Lost
Wed June 30, 2021 (postpoend from June 23, 2020) – Berlin, Waldbühne - Special Guests: Airbourne & Lord Of The Lost
Thu July 8, 2021 (postponed from June 10, 2020) – Cologne, RheinEnergieSTADION - Special Guests: Airbourne & Lord Of The Lost
More on
Iron Maiden
,
Disturbed
,
Airbourne
&
Lord Of The Lost