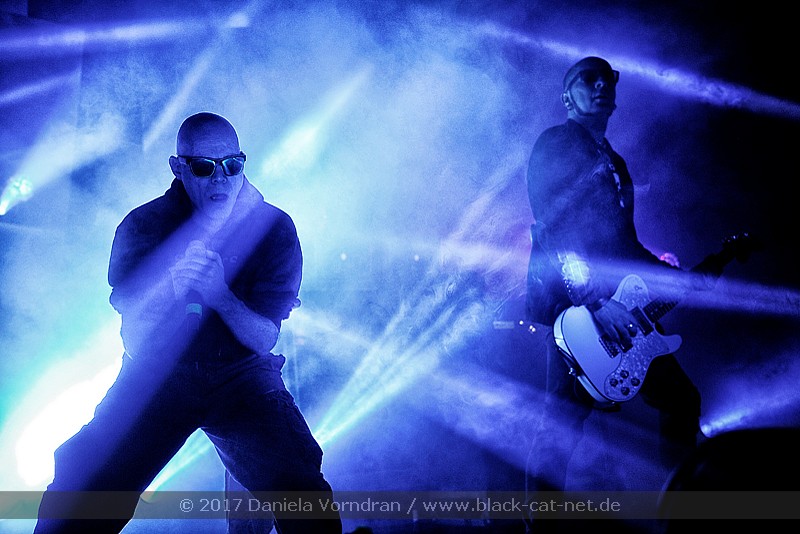 Attention: due to the Corona crises, this concert is rescheduled from March 2020 to September 2020 and further to March 2021 September 2021 and now to April 2022 with some new dates. Tickets remain valid!
"I want more"-– that's not only a line of a SISTERS OF MERCY song but obviously also the slogan of the band's tour schedule. After playing several gigs in Europe, Australia, New Zealand, Brazil and Mexico in 2019 the band will return to European stages in April of 2022. The band which has not released a new album for almost 30 years is doing well these days. The recent tour was sold out and Andrew Eldritch, guitarist Ben Christo and new band member Dylan Smith are busy writing and performing new songs. The most loyal band member - Doktor Avalanche - is still on board as well and does his job with highest perfectionism.
Tracks like 'Better Reptile', 'Show Me' and 'Kickline' were played for the first time on the recent tour and received highly positive feedback from the audience. If you have missed the lads in 2019, this is your second chance!
Now THE SISTERS OF MERCY have announced new tour dates for 2022. In 2020 the band was still on tour in the UK when concert venues on the continent had already been closed. The last gig they played was on March 11, 2020 in Nottingham. They disbanded with the words: "See you again when the zombie apocalypse is over." Nobody could predict at this time when this will be. The band had scheduled several gigs in the meantime and had to reschedule them twice. Now there is a new tour plan for April 2022 and some more cities are new on the list. Let's hope these gigs will take place as planned…
THE SISTERS OF MERCY German tour 2022

08 Apr 2022 Karlsruhe – Tollhaus / postponed from 29 Mar 2020 / 05 Sep 2020 / 14 Mar 2021 / 01 Oct 2021
11 Apr 2022 Fürth – Stadthalle (before Nuremberg – Löwensaal) / postponed from 20 Mar 2020 / 10 Sep 2020 / 17 Mar 2021 / 27 Sep 2021
12 Apr 2022 Dresden - Schlachthof / New Date
14 Apr 2022 Saarbrücken – Garage / postponed from 21 Mar 2020 / 08 Sep 2020 / 20 Mar 2021 / 25 Sep 2021
20 Apr 2022 Frankfurt – Batschkapp / postponed from 23 Mar 2020 / 07 Sep 2020 / 15 Mar 2021 / 30 Sep 2021
21 Apr 2022 Munich - Tonhalle / New Date
23 Apr 2022 Ulm – Roxy / postponed from 24 Mar 2020 / 11 Sep 2020 / 18 Mar 2021 / 28 Sep 2021
More information: http://www.the-sisters-of-mercy.com/
Tickets (Germany):
http://bit.ly/som_de
/ Tickets (Switzerland):
http://bit.ly/som_ch
European Dates

2022 March 31 Den Haag, Netherlands Paard
2022 April 01 Maastricht, Netherlands, Muziekgieterij
2022 April 03 Groningen, Netherlands, De Oosterpoort
2022 April 05 Nijmegen, Netherlands, Doornroosje
2022 April 07 Antwerpen, Belgium, TRIX
2022 April 15 Liège, Belgium, Caserne Fonck
2022 April 17 Brussels, Belgium, Ancienne Belgique
2022 April 24 Winterthur, Switzerland Salzhaus
2022 April 26 Milano, Italy, Alcatraz
2022 April 27 Ciampino, Italy, Orion
More on
The Sisters Of Mercy