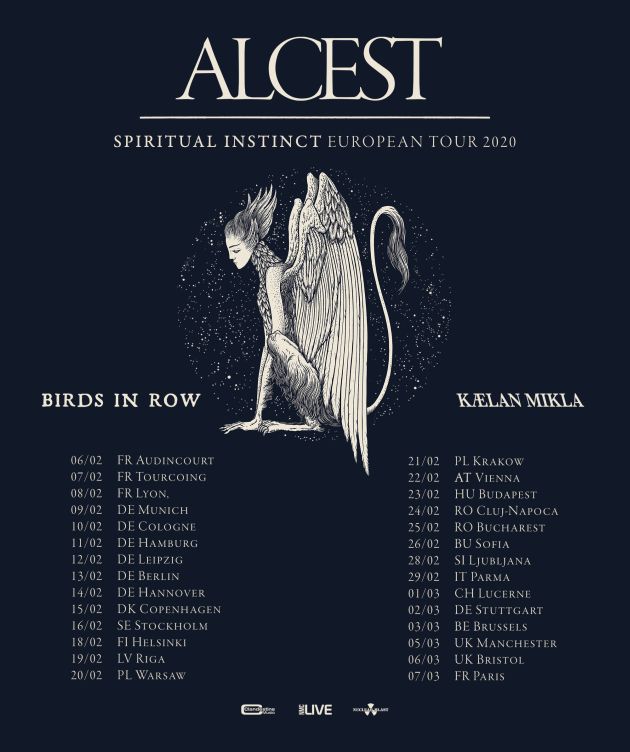 ALCEST are back with their brand new album 'Spiritual Instinct'. Singer and song writer Neige: "It is a very cathartic record - something needed to get out of me." With their latest output the band remains true to itself. Neige (French for snow) told in earlier interviews that he had dreams about a "Fairy Land", "a place with colours, forms and sounds that do not exist here." The music of ALCEST is highly influenced by these dream experiences.
Those dream worlds are also a good match with KAELAN MIKLA, a cold wave trio from Iceland. The three young ladies released three albums already and shared stages with the likes of THE CURE and PLACEBO. Their latest album, 'Nótt eftir nótt', largely revolves around the themes of homesickness, insomnia, fairy tales, shadows, witches, and "the darkest hours of the night." Their lyrics are not in English but in Icelandic by the way.
BIRDS IN ROW is a French Hardcore Punk band that formed in 2009 and is composed of three members as well, "T.", "Q." and "B.". The faces of the members are intentionally cropped out of promotional photographs and music videos, and the original individual members were usually only referred to by the single letter initials mentioned above. Birds in Row consciously make this effort in order to appear as a single entity rather than three individuals.
German tour dates

February 09 – Munich, Technikum
February 10 – Cologne, Die Kantine
February 11 – Hamburg, Grünspan
February 12 – Leipzig, Täubchenthal
February 13 – Berlin, Heimathafen Neukölln
February 14 – Hanover, Capitol
March 02 – Stuttgart, Im Wizemann
Tickets:
http://bit.ly/alcest2020
More information: http://www.alcest-music.com / https://kaelanmikla.bandcamp.com / https://www.wearebirdsinrow.com