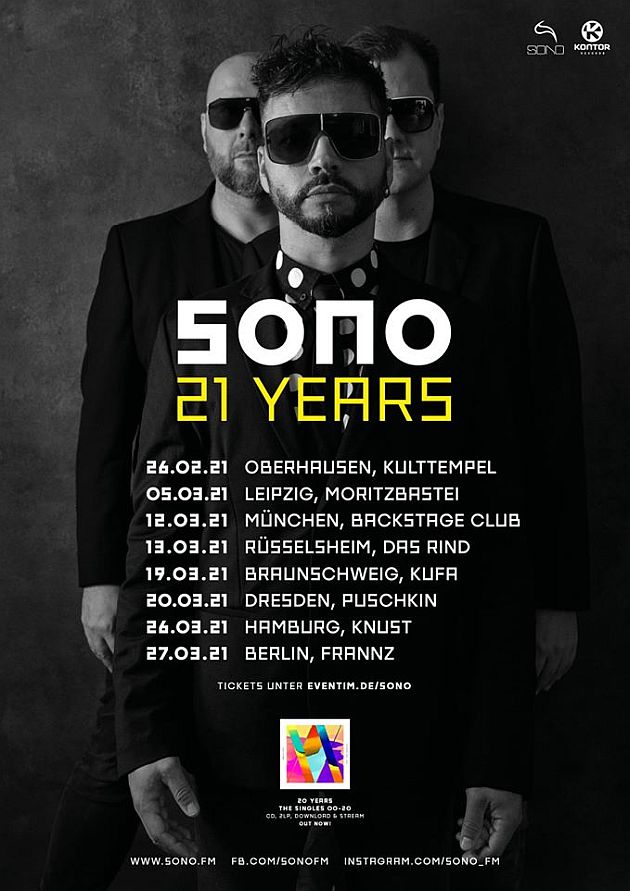 Attention: due to the Corona crises, this tour is rescheduled from March / April 2020 to February / March 2021 and further to March/April 2022! Tickets remain valid!
Without doubt, the Hamburg trio SONO is one of the most constant names when it comes to electronic music, and the Dance and Pop scene can't be imagined without them. In the year 2020, the band celebrates its 20th anniversary, and there will be a best of album containing all singles to be released on January 10, 2020.
As small foretaste, on December 6, the first of a hand full of top-class remixes of their super hit 'Keep control' will be released. First in row are the Ukrainian shooting stars of ARTBAT, and in 2020, there will be mixes of MAXIM LANY, RAUMAKUSTIK, and SHALL OLIN. The "20 Years" tour takes place in March and April 2020. Come and celebrate!
SONO: 20 Years Tour dates

10 Mar 22 Berlin
11 Mar 22 Leipzig
12 Mar 22 Dresden
18 Mar 22 Bielefeld
19 Mar 22 Braunschweig
24 Mar 22 Hamburg
25 Mar 22 Oberhausen
26 Mar 22 Rüsselsheim
01 Apr 22 München
02 Apr 22 Stuttgart
More on
Sono