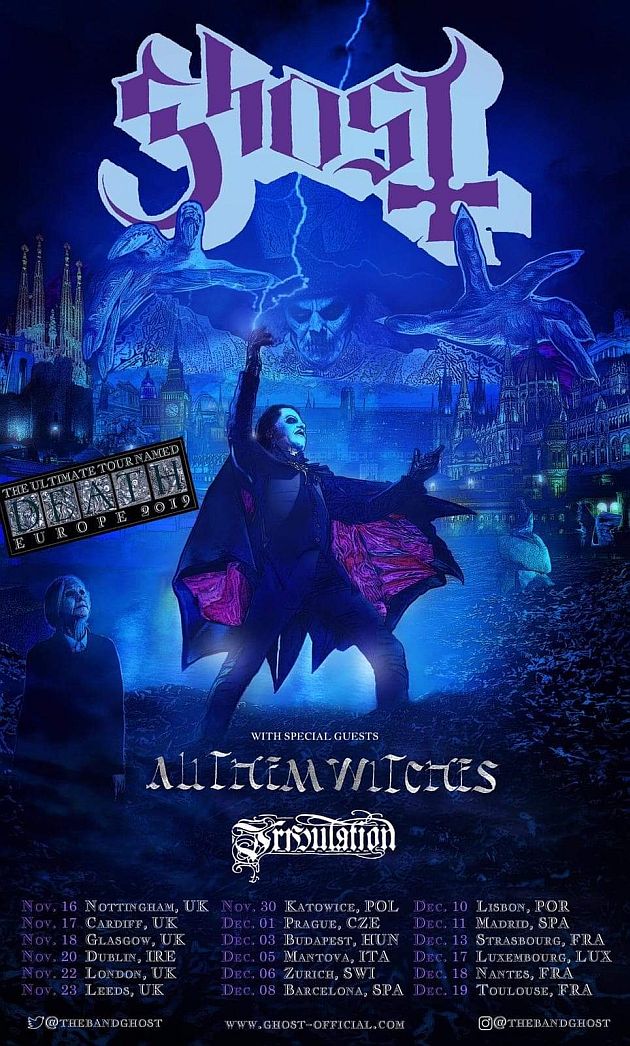 Rockhal, Esch sur Alzette, Luxembourg
17th December 2019
Ghost - "Ultimate Tour Named Death" 2019 - Support: All Them Witches, Tribulation

The Swedish-born Tobias Forge, who has been referred to as "the Andrew Lloyd Webber of Rock," is GHOST's creative force, singer, songwriter, musician, and architect of the elaborate storylines that are woven through the band's four full-length studio albums, EPs, music videos, webisodes, and live shows, all of which advance the GHOST storyline.
Forge grew up listening to a wide array of 1970s and 1980s rock - ALICE COOPER, JOURNEY, KANSAS, BOSTON, BLACK SABBATH, JEFFERSON STARSHIP, IRON MAIDEN, and FOREIGNER. He's a hard-core music junkie; at home in Sweden, he has a most impressive collection of vinyl, cassettes, CDs, and VHS tapes, and when on tour, he regularly arranges for visits to local record haunts and ships back even more treasures. He plays guitar, bass, drums, keyboards, and kazoo. GHOST's current album, 'Prequelle', is loosely based on The Black Plague of 14th century Europe, a metaphor Forge hopes will apply to the societal ills of today.
GHOST's music began as being much heavier, harder and "more Metal," but over the band's recent history, their songs have evolved to embrace a catchier, Rock / Pop sound. Five of the band's songs have hit Billboard's Top 5 Rock chart - 'Cirice' claimed the #4 spot in 2015, 'From The Pinnacle to the Pit' went to #5 in 2016, and 'Square Hammer' (2017), 'Rats' (2018), and 'Dance Macabre' (2018) all held the #1 spot on the Billboard Mainstream Rock Songs chart and on the Mediabase Active Rock chart. GHOST's music retains its rock edge as well as its dark lyrical themes like The Black Plague, the Antichrist, the Inquisition, avarice, and the Apocalypse.
GHOST has received two Grammy nominations: "Best Metal Performance" in 2016 for 'Rats', which they won, and "Best Rock Album" in 2019. With 'Dance Macabre' becoming the band's third #1 single at rock radio, Grammy award-winning artist GHOST announces a headline tour, the "Ultimate Tour Named Death", that will see the Swedish rock band's at the Rockhal on the 17th December. GHOST's widely acclaimed live performances are known for raising an ungodly ruckus, and that will only be amplified as the band brings its stage production to the locations.
Additional Concert Info

Doors: 18:00
Start: 18:30
Tickets & Info: https://www.rockhal.lu/events-tickets/rock-pop/show/detail/GHOST-1/
Facebook Event: https://www.facebook.com/events/2333048096954634/
More on
Ghost
,
All Them Witches
,
Tribulation