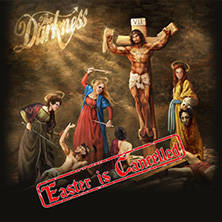 Essigfabrik, Cologne, Germany
21st February 2020
The Darkness - "Easter is Cancelled" European Tour 2020 - Special Guests: Dz Deathrays

THE DARKNESS returned in 2012 after a seven-year hiatus with their great comeback album 'Hot Cakes' and immediately became the UK's most important Hard Rock group again - as was also shown by the two subsequent albums 'Last of Our Kind' (2015) and 'Pinewood Smile' (2017), which immediately climbed high in the charts worldwide. Now the next big thing was announced for autumn 2019 with 'Easter Is Cancelled'. Directly followed by a big headline tour through the UK and Europe, which will also take the Hard Rock stars to Germany for six shows between February 8th and 25th.
The rise, fall and return of THE DARKNESS have all the ingredients of a Classic Rock opera: an outdated Hard Rock band from Lowestoft finds its way into the pubs of Camden and gains such a large fan base by word of mouth that it fills entire theatres even without a record deal. Overnight they become stars, sell their debut album 'Permission To Land' three million times, win three BRIT Awards and become one of the biggest bands of the moment. This is followed by the controversial sacking of their bassist during the recording of their second album 'One Way Ticket to Hell', which also went platinum. And you experience a singer who can't find his way in his new fame, gets out and breaks with his brother, with whom he once founded THE DARKNESS.
The members spent the next few years forming various new bands, but they missed the great magic that had always distinguished THE DARKNESS. The reconciliation between Justin Hawkins and his brother Dan led to a turning point in 2010. With the original members, bassist Frankie Poullain and drummer Ed Graham, THE DARKNESS went into the studio in 2011 and rediscovered their intense, shared chemistry. Within just a few sessions, the main features of the album 'Hot Cakes' with their world hit 'I Believe In A Thing Called Love' were created.
Since then, the quartet has become an integral part of the global Hard Rock Olympus. They tour as diligently as in their early days and enrapture the Rock community with inimitable sweaty shows and great albums. Since 2014, the clubs and festivals have been reduced to rubble with new drummer Rufus Tiger Taylor and so only great things can be expected for the upcoming UK and European tour. Munich, Nuremberg, Berlin, Hamburg, Cologne and Frankfurt can look forward to the live performance of the sixth studio album 'Easter Is Cancelled' in February 2020!
Additional Concert Info

Doors: 19:00
Start: 20:00
Tickets are available 41.95 EUR via
Eventim
Info: https://www.livenation.de/show/1259665/the-darkness-easter-is-cancelled-tour/köln/2020-02-21/de
More on
The Darkness
and
Dz Deathrays