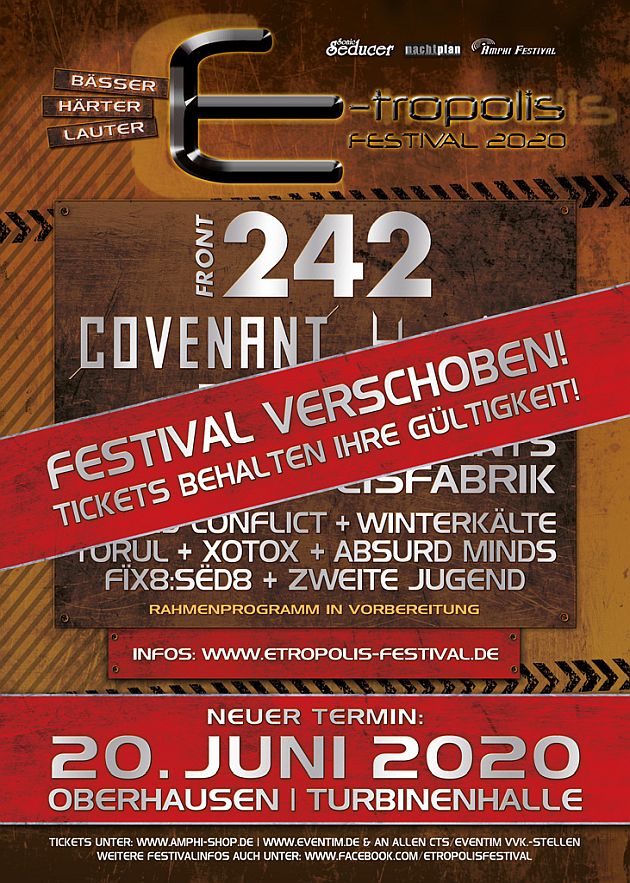 Turbinenhalle, Oberhausen, Germany
20th June 2020
E-Tropolis Festival 200 with Front 242, Covenant, Hocico, Diorama, Solitary Experiments, Zweite Jugend and many more

Waiting on with the finest in EBM, Electro Pop and Industrial, the E-Tropolis Festival marks a mandatory date for the Dark-Electro scene. Sold out for the first time in 2018, we are looking back at the most successful E-Tropolis Festival so far while at the same time forward to setting-off another cracking celebration in 2020. "Better - Harder – Louder" is always the motto, also on 14th March at Turbinenhalle Oberhausen. Due to the Corona virus crises, the festival, originally planned for March, had to be postponed to June.
It is already the seventh time that the E-Tropolis Festival will take place at the Turbinenhalle in Oberhausen after the festival moved from Berlin to the Ruhr valley in 2014. And again the line-up is a fantastic selection for everyone who loves electronic music from the dark side! Headliners are FRONT 242, guaranteeing a splendid end of the festival day. As always, lovers of several kinds of electronic music will find their favourite bands within the line-up.

So it's quite a line-up in a location which couldn't be more perfect for this kind of music. The Turbinenhalle is a former industrial building, a hydroelectric power plant for the Ruhr-valley's past steel industry, to be more precise. Quite apt for a festival for EBM, Synth Pop and Industrial! The move from Berlin to Oberhausen was also a smart move in other regards, since the Ruhr area is one of Europe's largest urban agglomerations and a place which is a traditional stronghold of all things EBM, Industrial, Gothic and so on. Plus it's rather close to Belgium and the Netherlands and thanks to the many airports there it's just a short flight from most European countries. You should definitely get your tickets in advance! For more information check the links below!
E-Tropolis Pre-Party

This is the original plan for the pre-party: The official E-TROPOLIS PRE-PARTY goes into its fourth round and therewith contributes to a still young but very fine tradition. On Friday, 13th March, you are invited to party with at Turbinenhalle 2. From 10:00 pm we dive into the night, once again with three excellent DJs, masters of their craft, to pick up the tone of the main event with a variety of dark electronic tunes. For all festival visitors who show their E-Tropolis Festival 2020 ticket at the entrance, admission to the pre-party is for free. If you want to attend the pre-party only, you can of course buy standalone party tickets at the doors from 10:00 pm on. Addition: since the festival is postponed now, there will soon be also updated news about the pre-party!
Additional Festival Information

Doors: tba
Starts: tba
Ticket fee: 60 euros + Charges (Pre- Sales)
Tickets can be bought at https://www.amphi-shop.de/de/festivaltickets/e-tropolis-festival-2020/ /
Eventim
Info: http://etropolis-festival.de