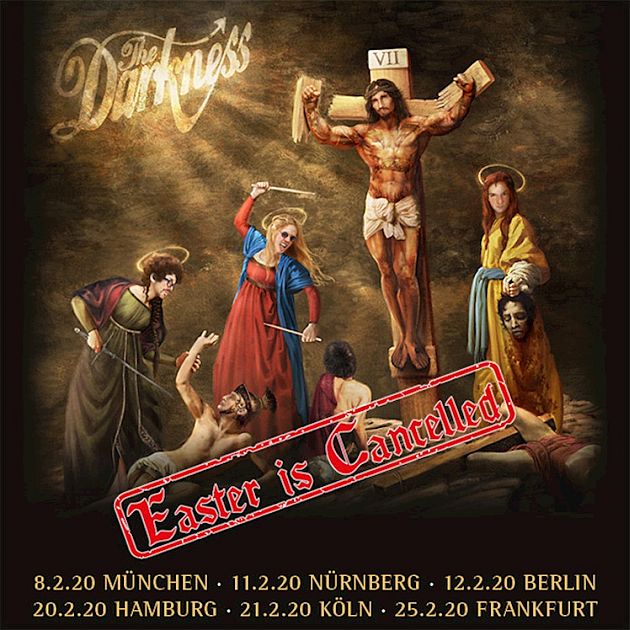 Batschkapp, Frankfurt, Germany
25th February 2020
The Darkness - "Easter is Cancelled" European Tour 2020 - Special Guests: Dz Deathrays

The British Rock band THE DARKNESS formed in 2000. The band became one the most important British Hard Rock bands. Justin Hawkins is the lead singer and guitarist; his brother Dan Hawkins plays the rhythm guitar and takes care of the backing vocals. Frankie Poullain (bass guitar, backing vocals) and Rufus Tiger Taylor (drums, backing vocals) complete THE DARKNESS.
They published their first album, 'Permission to Land', in 2003 followed by four more albums till 2017. At the end of 2019 they released their current album, 'Easter is Cancelled', which is also the name of their present tour. If you like Hard Rock combined with some Glam Rock you must not miss THE DARKNESS. I forgot to tell you something… if you are standing close to the stage you better watch out for the spandex suit of front man Justin Hawkins.
As support we can see and hear DZ DEATHRAYS. That's how they describe themselves: "Oh ya know, wrote some songs, changed our name, two people in the band, then three, tour heaps, party a fair bit. Yeah cheers". I am looking forward to check them out and perhaps we will see each other in Frankfurt. If you can't make it we will provide some nice pics and a review of their show.
Additional Concert Info

Doors: 19:00
Start: 20:00
Tickets: are available for 41.95 plus charge (pre-sale) via
Eventim
Info: https://batschkapp.tickets.de/de/tour/1001758-the_darkness
More on
The Darkness
and
Dz Deathrays