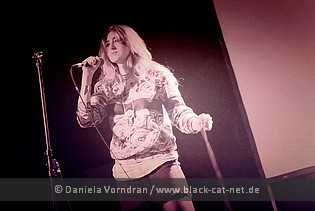 Molotow (SkyBar), Hamburg, Germany
20th November 2020
Tempers - "Private Life" Tour 2020

Attention: Due to the Corona crises, this concert is rescheduled from March 2020 to November 2020!
TEMPERS are Jasmine Golestaneh and Eddie Cooper from New York City and create danceable Electro tunes and beats that are surrounded by influences from the Gothic, Dark Wave and Industrial genre. Their previously released music received a positive echo from the music press in the US as well in Europe.
Their newest and third album 'Private Life' was released on October 25th 2019 and is now followed by the Europe and UK tour in spring 2020. The band's first album 'Services' came out in October 2015, followed by the EP 'Fundamental Fantasy' in February 2017. The European tour will start end of February. TEMPERS are visiting UK, Poland, Italy, France, Germany, Hungary, Denmark, Romania, Austria and Czech Republic during this leg of their tour with the new material.
Additional Concert Info

Doors: 19:00
Start: tba
Tickets: from 16.75 € (+ charges, additional shipping) via https://www.tixforgigs.com/Event/32863 and
Eventim
Info: https://molotowclub.com/programm/programm.php?nr=28122
Artist: https://www.facebook.com/tempersmusic/
More on
Tempers